Celebrity Baby
Bump Watch
Happy Wednesday Hump Day — also known to us as Celebrity Baby Bump Day! We have rounded up the cutest pregnant celebrities of the week, including Lisa Ling who is excited (but also a little nervous) to be pregnant again after suffering a miscarriage. Singer Lily Allen showed off her baby bump while taking a babymoon vacation, while pregnant Amber Rose wore a tight black jumpsuit to dine at The Cheesecake Factory. Sugarland's Jennifer Nettles and Chad Lowe's pregnant wife round out our list of cute pregnant celebrities.
(page 3 of 5)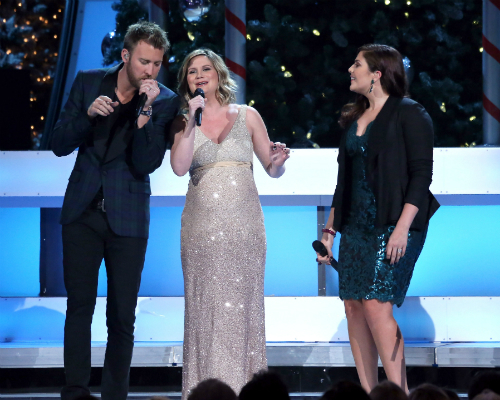 Jennifer Nettles
Sugarland singer Jennifer Nettles showed off her baby bump in a sequin gown as she performed with Lady Antebellum at the 2012 CMA Country Christmas concert, which will air on TV next month.
Netttles, who is expecting her baby this month, told Good Day LA that she was "emotional and hormonal" the first three months of pregnancy while filming Duets.
"I cried all the time," she said. "I cried on the show. I begged the producers, I was like, 'Please don't make me that girl.' And they didn't know why, obviously. I mean, I am sensitive... I would cry at Olympics commercials and ridiculous things."
Nettles also shared her pregnancy cravings. "I crave Mexican food… Anything salsa, spicy, I love that. Anything vinegar-y or tart, I love that. I'm pretty much a free-for-all at this point." Not on her list? Sweets! "It's not my main craving, which is interesting, because I normally have a big sweet tooth," she shared.
Next up: Pregnant Amber Rose wears a skin-tight outfit