Celebrity Baby
Bump Watch
Happy Wednesday Hump Day — also known to us as Celebrity Baby Bump Day! We have rounded up the cutest pregnant celebrities of the week, including Kristen Bell who was spotted showing off her tiny baby bump while walking her dog. Pregnant Shakira looked chic in Isabella Oliver leggings, while Sugarland's Jennifer Nettles dressed her bump up for Christmas! Pregnant Gisele Bundchen (in a bikini!) and Holly Madison round out our list of cute pregnant celebrities of the week.
(page 3 of 5)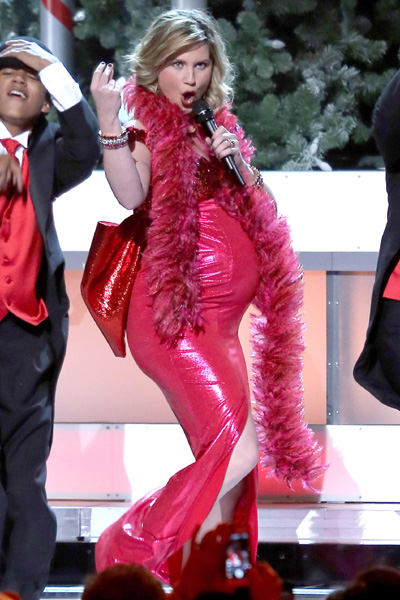 Jennifer Nettles
Sugarland's Jennifer Nettles showed off her baby bump in a red dress paired with a boa as she performed at the 2012 CMA Country Christmas, which is an event held in conjunction with the CMAs in Nashville, Tennessee at the Bridgestone Arena.
The 38-year-old singer is expecting her first child with husband Justin Miller this month — or, by the looks of it, any day now!
In fact, Carrie Underwood spoke about that very thing two days before the Country Christmas show during the CMAs, in which Nettles was sitting in the audience. "What happens if Jennifer Nettles goes into labor tonight?" she joked to the crowd.
Luckily, Nettles didn't go into labor either night — however by the time the Country Christmas Concert airs (on December 20) the singer will have a little baby to cuddle.
Next up: Gisele Bundchen shows off her baby bump in a skimpy bikini