Kid-Friendly Turkey Day Table Decorations
Raise your hand if you're obsessed with Pinterest. We're with you. That's why we took to the inspiring site to help us find some fun crafts and centerpieces kids can do to finish off your T-Day table.
Pilgrim place card holders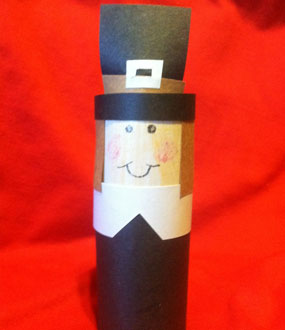 These darling pilgrims, inspired by a Pin from Spoonful.com are supposed to be finger puppets. But we think they can do double duty as table place card holders. Simply cut a small slit across the circumference of the toilet paper tube and insert a hand-written name card. All you need are empty toilet paper rolls (or paper towel rolls cut in half), some construction paper, glue, crayons and card stock for the name cards.
Paper plate turkey face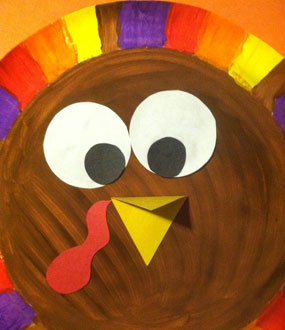 This paper plate turkey face from the Easy Preschool Crafts for Kids blog is easy enough for young kids (my preschooler and kindergartener helped me with this one). You can use any pattern of watercolor paints to match your tablescape. Have children attending the Thanksgiving feast each prepare one in advance, then prop them up with thick card stock at the table for the big meal.
Wood scrap turkey centerpiece/place holder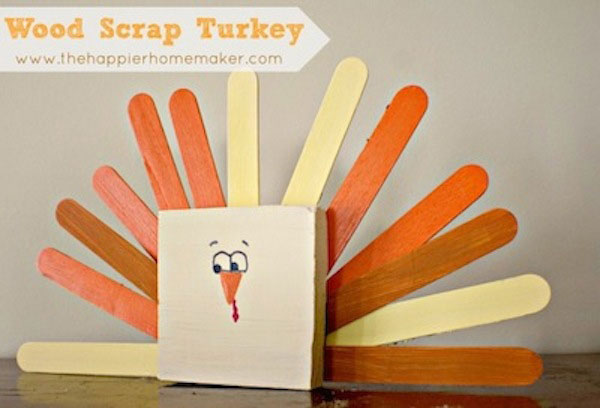 With some popsicle sticks, paint, markers and a piece of spare wood, you can create this darling centerpiece or place holder designed by Melissa of The Happier Homemaker. We're all about reusing and repurposing and this crafty little centerpiece makes something adorable out of would-be garbage. Love it!
Thanksgiving tree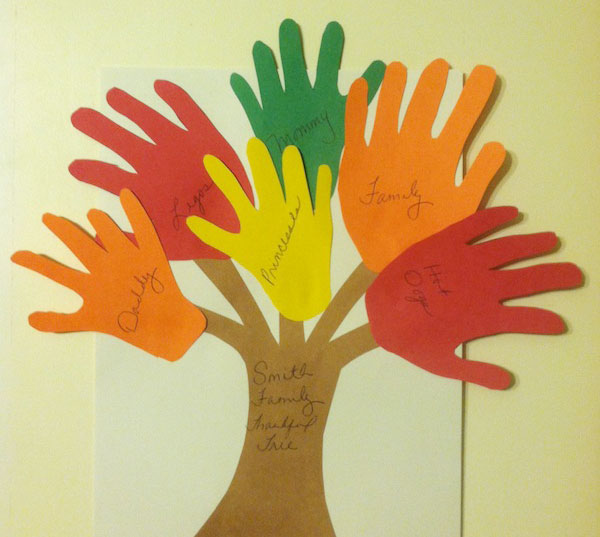 Make an interactive centerpiece as you sit down to dinner. Place a piece of construction paper (red, orange, yellow or green) on each place setting. When you sit down to your T-Day table, invite guests (not just the kids!) to trace their hands and write down one thing they are thankful for with their names. Then collect the pieces of paper and go on with your dinner. While your guests are resting before packing in some pie, cut out the handprints and glue them onto a pre-cut "tree." Hang up the thankful tree inspired by Crafts by Amanda's Thanksgiving tree for all to enjoy before you dig into your Turkey Day desserts.
Wine cork autumn tree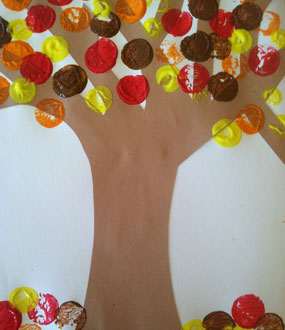 If there is just one thing you can thank Pinterest for, it's finding numerous reasons to pop open a bottle of wine. Say cheers to this cute autumn tree craft from The Picky Apple that utilizes wine corks to create a rustic looking fall tree with little more than some construction paper and paint. Invite your kids to use their imagination as to where the "leaves" will fall on their autumn trees. Hang the artwork as part of your Thanksgiving decor.
Paper loop turkey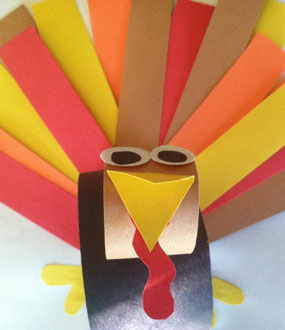 This cute centerpiece from Free Kids Crafts is by far my kids' favorite of the crafts and centerpieces we attempted. We glued ours onto a piece of white paper to hang up. To use as a centerpiece, use some good heavy cardstock for the "feet" to keep your loop turkey upright at the table.
More on Pinterest, crafts and Thanksgiving
5 Fun ways Pinterest can inspire your life
4 Easy Thanksgiving crafts for kids

5 Fun family traditions to start for Thanksgiving