Celebrity Moms
Magazine Highlights
We have rounded up the coolest and chicest celebrity moms that are on the covers of magazines this month. Halle Berry talked about her daughter Nahla to InStyle magazine, while Nicole Kidman opened up to Harper's Bazaar. Connie Britton talked about being a single mom to her adopted son to Redbook, while Giada De Laurentiis graced the cover of Women's Health.
(page 3 of 4)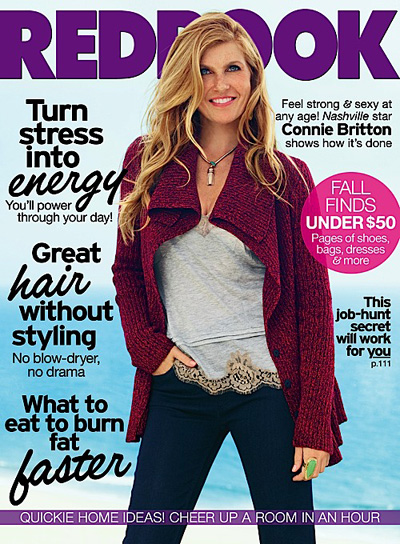 Connie Britton
Fans fell in love with Connie Britton as Tami Taylor on Friday Night Lights, but she is now re-inventing herself on her new show Nashville. The 40-year-old actress opened up in this month's issue of Redbook magazine.
On the celebrity adoption trend:
"Me and Angelina and Sandra Bullock and Mary-Louise Parker just get together every weekend, drink rosé, and talk about kids! No, that is not the case. Not that I wouldn't love to get together with all of them and discuss their experiences. But there is a community of people who have adopted children from Ethiopia, and that's something I want to be a part of for sure. To me it's really important for my son to have a strong sense of that background."
On deciding to be a single mom:
"I always knew I wanted a child, and I always assumed I'd be doing it with a man. Then my parents passed away within three years of each other. Right after that, a lightbulb went off in my head and I thought, 'What am I waiting for?' I wasn't in a relationship at the time, but I thought, 'This is something I want to do. I can do it.'"
On how Friday Night Lights taught her how to be a mom:
"One thing that I tapped into very early on doing FNL was that a lot of what it feels like to be a mother is that you feel like you have no idea what the hell you're doing. That was true for me as an actor… And then at some point I realized, well, actually, that's exactly how a mother would be feeling. And now that I'm a mother, I realize the depth to which that's true."
For more from the actress, pick up the November issue of Redbook.
Next up: Giada De Laurentiis on Women's Health magazine
Photo: Redbook