Cherishing your children as individuals
Letting my daughter go off to kindergarten was one of the most difficult things I've had to do since becoming a parent. I had no idea that sending her off would help me to better appreciate a precious gift that was here with me all along.
Focusing on what's missing
There are moments after you step onto an elevator when the Muzak begins to wash over you and you can't quite place the song.
It's familiar… you've heard that melody before. You can almost hear the lyrics and you're suddenly playing Name that Tune.
Is it Billy Joel? No, maybe it's Paul McCartney? Elton John? Air Supply? Fleetwood Mac?
"But, oh how lovely they each are on their own."
While you stand there in the elevator, wracking your brain, trying to piece it together to identify who's not singing before you have to exit the elevator, something shifts and you can't help but begin to notice the piano or the guitar or the drums.
You hear all of the things that you wouldn't hear if the vocals were in place and you were singing along.
And as much as you would love to place the song, you recognize that the music is actually rather lovely on its own.
This is what life has felt like for me since sending my daughter Katie off to kindergarten this fall.
One of my greatest challenges was letting her go and now she's facing kindergarten >>
Finding my footing
For days, I was lost in all that was missing. I missed her laughter, her curiosity and her enthusiasm for everything. I missed the way she changed her clothes three times a day or requested breakfast for lunch.
But, as the days passed, I began to notice things about her little brother Matthew that had been crowded out by the lyrics that are Katie.
Though we have always treasured him for who he is, unlike his older sister, he has never had the spotlight completely to himself.
Listening to the beautiful music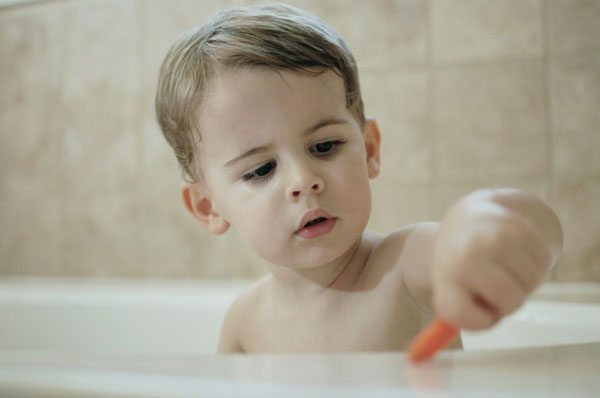 I have come to savor the tiniest details about him… the way he says vegetable, the way his eyes sparkle when he dares you to chase him and tickle him and the sound of his quiet breathing when he's reading books.
Those little things make up the music and without the lyrics, I've been better able to get lost in all of the beauty there. I've had time and space enough to let him shine on his own.
Now, on the weekends when Katie is home, I hear the lyrics, but the music is somehow brighter, more magical.
The combination of lyrics and instrumentals makes for beautiful music and there's no better sound.
But, oh how lovely they each are on their own.
And I am so incredibly grateful for the opportunity for the time to listen to the sweet music.
More on enjoying the moment
10 Simple ways to show gratitude to your kids
5 Ways to feel happier every day
Practicing Gratitude: Find your whimsy