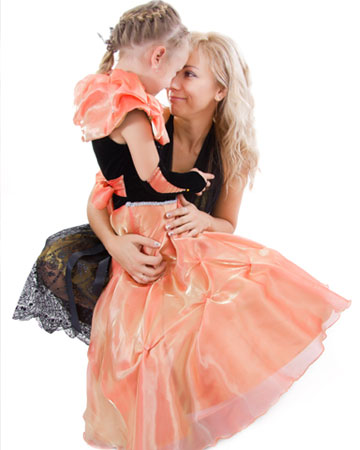 Simple prep, timely patience are key
This Halloween, it will be easy to huff and puff about a child who just shoved her fist into your candy bowl and walked away without a "thank you."
Instead, consider whether that child still might be learning fine motor skills (required to select one piece of candy precisely) or perhaps can't speak yet.
Today, we know so much more about children, their development and some common challenges facing them, such as Sensory Processing Disorder or autism.
With education should come understanding and some modifications to "the way we've always done it." Accommodating a child's special needs doesn't mean you're spoiling the child. It means you're showing compassion — and what better "treat" on Halloween than a little compassion toward a child?
Tips for parents
Prepare! "We have to do a lot of priming weeks before we head out," says Los Angeles mom Dawn Hentrich, whose son has autism. [We get ready by] wearing the costume around the house, practicing "trick-or-treat" as needed. He's ready this year (he wanted to go out a few nights ago) but at the beginning of the month, he wouldn't even talk about Halloween."
If a child refuses to wear a scratchy costume — or any costume — let it go. The day should be about having fun, not about having the perfect costume.
If your child is nonverbal, prompt him to sign thank you. If a homeowner sees you working with your child to teach manners, she is more likely to be understanding.
If your child's speech is difficult to understand, Kathryn Lariviere, executive director of the Down syndrome Association of Greater Charlotte (North Carolina), recommends having the child hand out cards that say, "Trick-or-Treat! My speech may not be clear right now, but I want you to know that I'm wishing you a very Happy Halloween!"
Tips for homeowners
Don't assume a child is rude because he snubs your candy bowl; he may have an allergy and knows better than to put his hand in with all those Snickers.
Likewise, don't assume an "old enough" child has no manners because he doesn't say thank you; he may be not be talking yet (in special needs terms, this is called "nonverbal").
Make sure pathways are clear and well lit. Just because you don't take the side path doesn't mean an eager trick-or-treater won't, so take an extra moment to put away rakes and hoses.
If your home has steps leading to the door, consider setting up a candy bowl at sidewalk level with a sign inviting children who might not be able to navigate the stairs or may be in a wheelchair. Don't want to miss the interaction? Set up camp on your patio, and greet children as they come up the walk.
No matter how much we plan, the only certainty is that kids will find a way to catch us off-guard. Take a breath, take a moment and go with it.
As mom Ellen Seidman writes, "Last year, both kids refused to dress up, Sabrina joining Max in a show of sibling solidarity... I let go. We would do Halloween our way, in T-shirts and sweatpants. That would be our tradition, as quirky as our family itself."
Make your own tradition this year, one of acceptance and patience. This fresh perspective may mean the difference between a frightening, stressful holiday and one full of happy memories.
More on children with special needs
Have a sensory smart Halloween
Potty training a special needs child
Tips for visiting theme parks with kids on the autism spectrum