Celebrity Baby
Bump Watch
Happy Wednesday Hump Day — also known to us as Celebrity Baby Bump Day! Glee star Lea Michele has been spotted with a rumored baby bump — or was it just a big lunch? Check out the photo and let us know what you think. Pregnant Shakira rocked leather leggings, while Lily Allen gave us the first peek of her baby bump. Modern Family star Sofia Vergara looked chic in a Pea in the Pod dress on set and Malin Akerman looked fab in a flowing dress.
(page 4 of 5)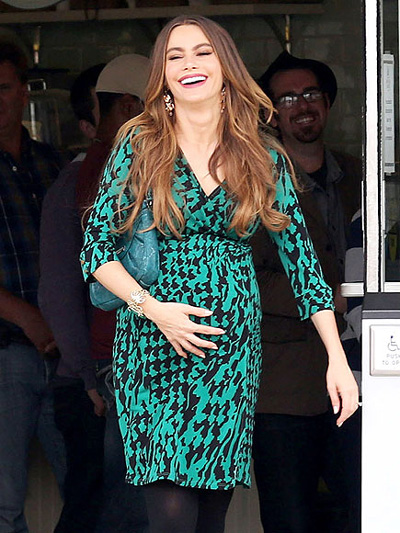 Sofia Vergara
OK, so Sofia Vergara is not actually pregnant in real life, but her character Gloria Delgado-Pritchett on Modern Family sure is! The actress was spotted on set looking very chic with her faux baby bump and wearing A Pea in the Pod Houndstooth Faux Wrap Maternity Dress ($120).
Vergara, 40, told Katie Couric that she is actually not looking forward to filming the show once her character has a baby. "It's going to change for me, because then, actually my hours of shooting with Ed and Rico [Rodriguez], they're very fast, because we come prepared," Vergara said. "We do it fast; Ed is very professional, and Rico too, he's like an adult. And now, with a baby, it's going to be double because they cry, and then, 'Bring the other one, bring the new one, the diaper' — so we're dreading it."
What about a baby in real life? Vergara already has a 22-year-old son, but just got engaged so perhaps another child is in her future?
"Maybe next year I could think about it," she told Katie.
Next up: Pregnant Malin Akerman's charity event
Photo credit: AKMGSI