Celebrating every baby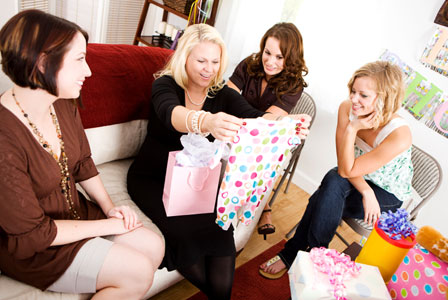 Just because you already have a child (or two… or three…) doesn't mean you shouldn't be showered with love for your next baby. Baby "sprinkles" are becoming very popular for second, third and subsequent babies — a much lower key gathering.
Let the love rain down
With minimal pressure and an informal feel to them, a baby sprinkle party is a lovely way to welcome a new addition.
Never heard of a baby sprinkle? Instead of "showering" the mother with gifts, as in a baby shower, you "sprinkle" her with just a few necessities. As the name suggests, a sprinkle is a light shower. If the child is a second or third child, mothers typically already have most of the supplies needed to care for a baby.
Sprinkle with the daily essentials
A sprinkle stocks repeat parents with basic replenishable items they'll need right away and go through quickly. For example: Diapers, diaper cream, baby bathroom essentials and wipes. New outfits, toys, bedding and books are lovely gifts too and guests of a sprinkle should not feel restricted from buying big ticket items, but a sprinkle is mostly about family and friends celebrating a new addition. If there is a big gap between children or a different gender is expected, a full baby shower might be in order, but always consult with the mother to see what she is comfortable with, what items are needed and create your invitation accordingly.
Since a baby sprinkle doesn't have the formality of a baby shower, it isn't necessary to go all out when compiling the guest list, decorating, catering, providing entertainment and offering baby shower favors. A coed celebration with children is perfectly acceptable in the case of a sprinkle, so that the expecting mom's husband and child/children can be there, too.
What's a shower without games?
Games can liven up a party and break the ice and most guests will expect to play a game or two, but leave this the mother's discretion. One fun game to consider and a great way to include big brother- or sister-to-be is to ask guests to write their best advice for the sibling on a 3x5 card, which can make a nice keepsake book. Another game for repeat parents is "Remember When" — where guests share stories of their personal experiences raising their children and/or of pregnancy. These can be categorized into "funny," "embarrassing," or "sweet," among others and the mommy-to-be plays judge as to who gave the best stories in each category. This game is great for gleaning a few tidbits of advice about parenthood.
Whatever you do, don't forget older siblings!
A new baby is very exciting, but it can also be very worrisome for a child. Some simple ways you can help ease their insecurities are by including the name(s) of older siblings on the invitations, give the big brother or sister a special role at the sprinkle or a project they can be in charge of, encourage guests to greet the older sibling and if you are hosting a Meet and Greet sprinkle, allow the older sibling to introduce the new baby. A small gift will also go a long way. Becoming a new mom for a second (or third) time is always exciting and a sprinkle is a perfect way to celebrate!
More about baby showers
Baby shower alternatives for second babies and beyond
How to throw a baby shower for a third-time mom
Creative baby shower themes