A collection of my favorite note cards
When was the last time you sat down with a pen and paper, wrote a note to a friend and dropped it in the mail? There's something about receiving a note from a friend that makes the day a bit brighter — and there's a perfect note card for everyone.
I no longer check the mail every day. In all honestly, I don't check it even every other day.
When a trip to the mailbox results in an armful of catalogs, credit card solicitations and every other form of junk mail, it hardly feels worth the walk.
"I was delighted to
find mail. Real mail. For me."
So last week, when I went to empty what I was certain would be only junk mail, I was delighted to find mail. Real mail. For me.
My lovely friend Angela's handwriting stood out in the pile that I typically just toss in the recycling bin when I get back home.
And my heart skipped a beat. Long gone are the days when most of us actually expect something personal in the mail. We live in an age of immediate gratification and email feeds into (or maybe fuels) that perfectly.
In my effort to return that feeling of joy, I try to send out a couple of note cards each month. It takes just a moment to write and send off a note that will help to brighten someone else's day.
These are my favorite note cards right now:
Classic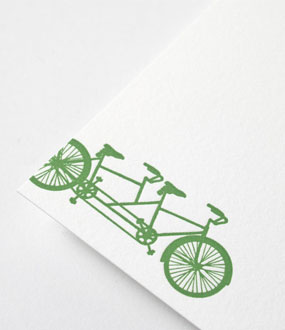 Letterpress From Me to You Flat Cards by Kate Spade, available at Papyrus
When you're on the hunt for quality stationery, Papyrus never disappoints.
I love the vibrant green tandem bicycle on this note card, which makes it perfect for sending to a close friend and the lovely graphic striped liners of the envelopes make them feel extra special. What better way to express friendship than with a bicycle built for two?
Price: $25.00 for 10 note cards
Whimsical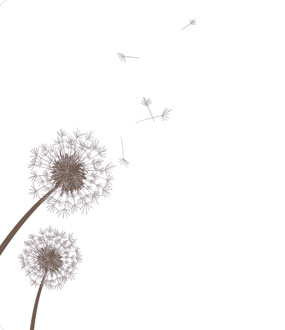 Classic Dandelions note cards, from Paper Culture
These are my go-to note cards. I love the whimsical, yet understated dandelions. While they're a bit pricier than the other cards, the thick card stock, made from 100 percent post consumer recycled paper, makes them worth it. I also love that Paper Culture plants a tree for every order they receive.
Price: Beginning at $2.59 per card but price goes down considerably for larger quantities
Humorous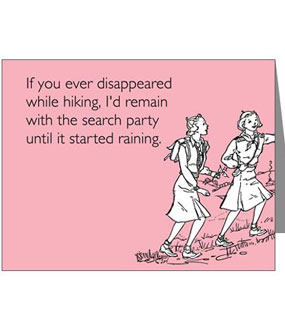 Disappeared Hiking note cards, from Someecards
Sometimes, you just have to send the funny and Someecards never fails to induce a laugh. Whether your sense of humor is mildly sarcastic or a bit more edgy, they have the perfect card for you. This one is my personal favorite.
Price: $14 for a pack of 10 cards
Grateful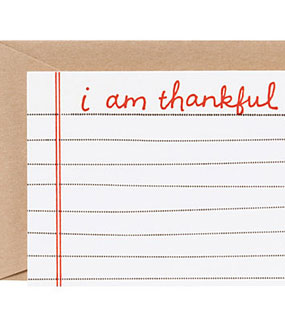 Notebook Paper I Am Thankful letterpress cards, from Paper Source
Sometimes all it takes to make a friend's day is just a simple note to let her know how much you value your friendship. I love the fill-in-the-blank prompt format of these fun cards. These are fun to send throughout the year or in the days leading up to Thanksgiving.
Price: $7 for a set of 10 cards
Bold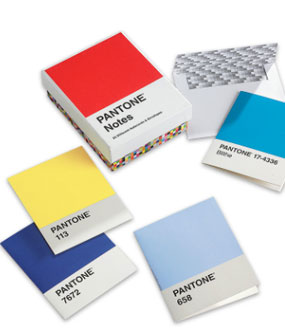 PANTONE Notes Note Cards & Envelopes, available at Levenger
I love that these cards are simultaneously bold and simple. These easily recognizable color swatches come 20 to a box, with no color repeating itself. I love the way the grayscale pattern on the inside of the envelopes contrasts with the bold colors of the cards.
Price: $15 for 20 cards
A few minutes, a note card and some kind words can make all the difference in a friend's day when she goes to collect the mail.
More on friendship
Why all moms need good mom friends
How to make mom friends
Practicing Gratitude: Strength in numbers