Buzz-Worthy
Baby Bumps
Happy Wednesday Hump Day — also known to us as Celebrity Baby Bump Day! We have rounded up the most buzz-worthy baby bumps of the week, including Reggie Bush and his newly pregnant girlfriend Lilit Avagyan. Pregnant Molly Mesnick and Bachelor Jason Mesnick were spotted out, as was Sara Rue. Pregnant Holly Madison and Falling Skies star Moon Bloodgood round out our list of cute pregnant celebs.
(page 5 of 5)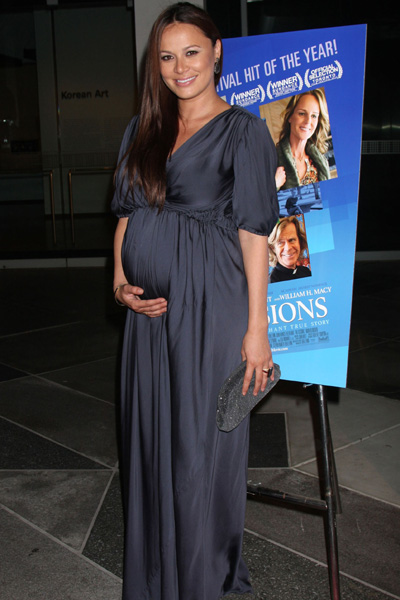 Moon Bloodgood
Falling Skies actress Moon Bloodgood showed off her baby bump for the first time in a gorgeous gray maxi dress at the premier of her new movie, The Sessions. The actress is expecting her first child in December with her husband Grady Hall.
The actress recently revealed to Conan O'Brien that she has been having crazy dreams during her pregnancy.
"I think I'm afraid of making a mistake, or I'm going to do something bad as a parent. But I have this dream where I kill someone and sometimes it's a woman, sometimes it's a dragon. (I blame) too much spicy food!" she said.
Photos: WENN unless otherwise noted