Celebrity Baby
Bump Watch
Happy Wednesday Hump Day, also known to us as Celebrity Baby Bump Day! Pregnant Camila Alves was spotted looking fabulous with her super-skinny husband, Matthew McConaughey, who recently lost 30 pounds for a movie role. Shakira debuts her baby bump, while pregnant Girls star Jemima Kirke noshes on ice cream. Amber Rose and Holly Madison round out our list of the top pregnant celebs of the week.
(page 4 of 5)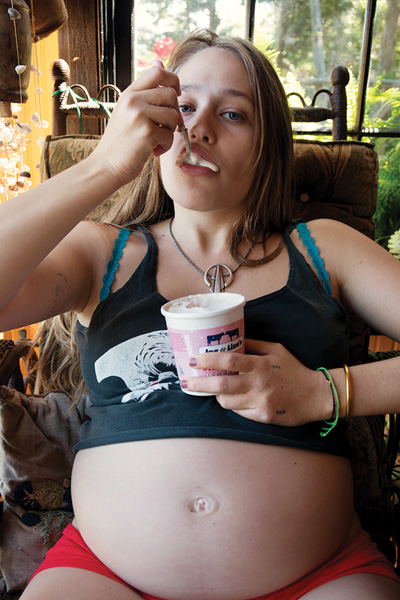 Jemima Kirke
Girls star Jemima Kirke, seen here noshing on ice cream and showing off her pregnant belly, went topless for a photoshoot for Vice magazine.
The 27-year-old, who plays Jessa on the hit HBO show, already has one daughter named Rafaella and is expecting her second with her husband Mike Mosberg.
"One of the best parts [of sudden fame] is that I can sufficiently support my kids," she told the magazine. "At my age that's pretty hard to do without struggling or taking money from my parents, and I don't have to do either. But it has taken a lot of time and energy away from my work as an artist."
She has not said if she is having a boy or a girl yet, but said she does have dating advice for her kids. "If I have a boy, I'll probably just tell him to be nice to women. Being humble and sweet is the hardest thing you can do. Stay confident and don't act desperate, because I guarantee whomever you're into actually sucks way more than you think they do. There is always something they're not telling you that will bring them down a notch in your eyes," she says.
Read the rest of the interview and her see provocative photo spread at Vice.
Next up: Holly Madison is glowing in green
Photo credit: VICE and photographer Richard Kern