Celebrity Baby
Bump Watch
Happy Wednesday Hump Day, also known to us as Celebrity Baby Bump Day! Pregnant Camila Alves was spotted looking fabulous with her super-skinny husband, Matthew McConaughey, who recently lost 30 pounds for a movie role. Shakira debuts her baby bump, while pregnant Girls star Jemima Kirke noshes on ice cream. Amber Rose and Holly Madison round out our list of the top pregnant celebs of the week.
(page 3 of 5)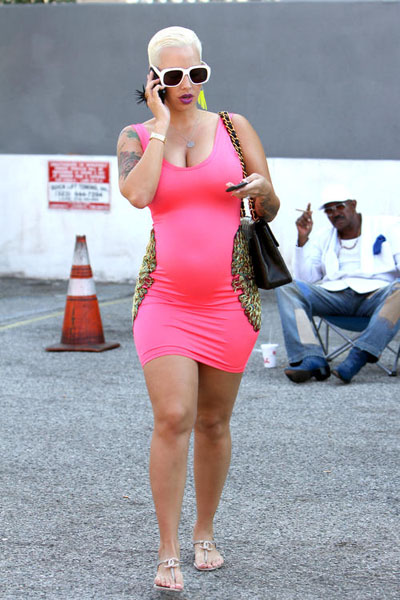 Amber Rose
Pregnant model Amber Rose showed off her baby bump in a tight pink mini-dress as she was spotted out in L.A. on Wednesday. Rose, who used to date Kanye West, is expecting her first child with her fiance Wiz Khalifa.
"I'm going all-natural," she told XXL Magazine about her childbirth plans. "I've decided that I'm going to have an all-natural water birth. No medicine. I want those bragging rights."
"The next time Wiz has a stomachache or anything, I'll say, 'I popped out a baby all-natural,'" she said.
Speaking of Wiz, he recently tweeted about some sacrifices he has had to make when it comes to his smoking habits.
"I Take So Many Showers A Day Cuz Amb Cant Take The Smell Of Pot While Shes Pregnant. Anything For My Baby Tho. Time To Get Washed And Go Rub Her Bacc."
Next up: Pregnant Girls star Jemima Kirke goes topless