Hoping for a baby, but ending up with a puppy
After nearly two years of struggling with secondary infertility, our family finally brought home a new baby this weekend. Although she isn't exactly the variety we've been wishing for, she does fill a huge part of the emptiness in our hearts and for that, I'm so grateful.
Touching base
The waitress brought my red wine and his beer, placed them side by side on the table, collected our orders and let us return to our conversation.
With the kids at home with a sitter, we were able to begin and follow conversations through to a natural end, with no interruptions for more milk or pleas for iPad time or more train time.
"Where are you right now... how are you feeling about things?" my husband asked.
"I'm just not ready to give up"
"I'm just not ready to give up," I spoke through a sudden lump in my throat, "I'm just not there yet. How about you? Are you ready?"
"I'm getting close," he said with honest eyes, the same warm brown eyes I fell in love with well over a decade ago.
I know that we don't have forever. My biological clock is working against us in our quest for another baby. This January will mark two years since we began trying... since we decided to add to our family.
"Can I have a bit longer?" I said through tears. "Not forever. Just a little more?"
"We won't stop until you're ready," was his response.
And those are exactly the words that I needed to hear.
Because infertility isn't one person's journey. We are both struggling and we each take steps forward and then back again. It isn't as simple as just giving up.
New life
Perhaps in an attempt to fill a void or as a means of distracting ourselves from our dream of another baby, nearly four months ago, we decided to add a puppy to our family.
We carefully chose a breed, contacted an amazing breeder and waited for confirmation of a pregnancy.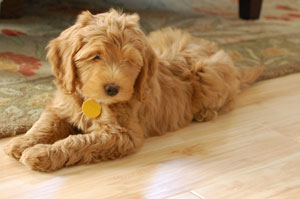 Our breeder then kept us up to date on the pregnancy and we eagerly awaited our puppy's birth.
Then, six weeks later, we finally met her. Our new baby.
We spent an hour playing with her before we had to leave her behind for two more torturous weeks.
Then, finally, this past weekend, we buckled the kids into the car and went to fetch our new baby girl.
Puppy love
I held her in my arms the entire way home, so happy to feel her tiny fragile body against my skin.
Though she isn't the baby that we've been hoping for month after month, she has already brought us tremendous comfort and joy in the few short days since we brought her home.
Maybe she'll fill the void and help me to make peace with the reality that our last baby may never come or maybe she won't, but in this moment, I am so incredibly grateful for her puppy breath, deliciously round belly and sweet nature.
More about infertility
Practicing Gratitude: When gratitude doesn't come easily
Secondary infertility struggles
Kids and puppies: Rules, safety and responsibility