All-American
Baby Names
Are you looking for a Democratic baby name for your All-American baby boy or baby girl? From names of Democratic presidents of the United States, to top baby names in "blue states," as well as unique or liberal names, you are sure to find the perfect Democratic baby name.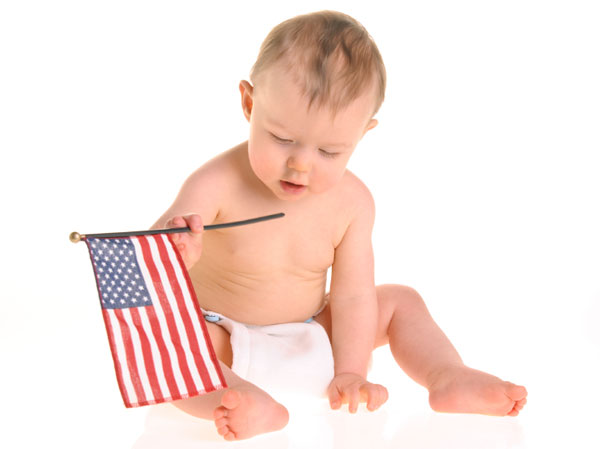 As the election draws near we thought it would be the perfect time to round out our favorite Democratic baby names. In case you are a little fuzzy on your U.S. history, the Democratic Party is one of the oldest political parties in the world, getting its start in the early 1790s. Andrew Jackson is considered the first president of the Democratic Party, so it is only fitting to start our baby name list with the names of U.S. presidents.
Democratic U.S. presidents
There have been fifteen Democratic presidents of the United States, with five serving two full terms and John F. Kennedy sadly being assassinated before he completed his full first term. These names are All-American and strong — and could be the perfect presidential name for your future leader.
Top baby names in "blue" states
A "blue" state refers to those states that historically are more likely to vote Democratic, while a "red" state refers to those that are more likely to vote Republican. We have rounded up some of the most popular baby names, according to the Social Security Administration, in those "blue" states.
In the blue state of Massachusetts, the top boy names are William, Benjamin, Jacob, Michael and Ryan, while the top girl names are Sophia, Olivia, Isabella, Emma and Ava. In New York, Michael is the top name followed by Jacob, Jayden, Matthew and Joseph rounding out the top five. The top girl names in New York are the same as Massachusetts, only with a slightly different order.
In Connecticut, Alexander is the top name, while Sophia again reigns supreme. What about California? Jacob and Sophia are the top names in the Golden Coast, while Michigan's top names are Mason and Olivia.
We see a couple of new names in the top five for the blue state of Hawaii, with Noah, Mason, Elijah, Aiden and Ethan the top names for boys and Sophia, Olivia, Chloe, Emma and Isabella the top names for girls.
Unique and liberal baby names
The following baby names are unique and cool — and perfect for your left-winged baby. Even if your child ends up leaning more to the right, these names are still great names that will help your child stand out in a crowd (in a good way!)
For those who are fans of the GOP, check out our list of Republican baby names here >>
More baby name ideas
Dude! California baby names to be stoked about
Hey Jude! Seriously cool Beatles baby names
Pottery Barn baby names: The new trend?