Tiny trick-or-treaters get their cute on!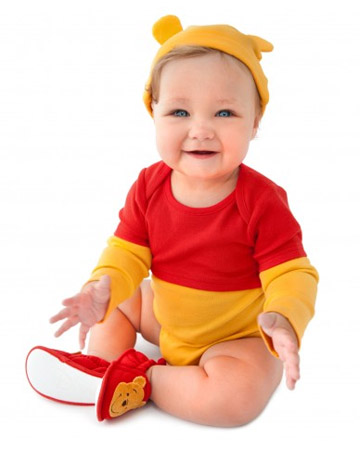 Adorable costumes for little ones
What's snug, happy and irresistibly cute? Your baby, in a creative Halloween costume! With an infant, the rule is to keep it simple. Skip the uncomfortable mask or heavy, binding outfit. Wee ones will look adorable with just a few additions to a colorful bodysuit.
Your baby will look perfect for pictures and parties in a simple and creative Halloween costume.
Baby bunting
Bunting costumes are an excellent choice for a first Halloween because they keep a baby snuggled up warmly and feel just like a swaddle. The color of the bunting dictates the costume theme. Choose red, and transform your baby into a strawberry, apple, ladybug or red-hot chili pepper with an appropriate hat or bonnet. Just stitch on some felt leaves or apply a scattering of polka dots! Black or yellow buntings transform to a cute bumblebee, a mini Darth Vader, or a cheerful sunflower. Keep the accessories plain and soft so there's nothing scratchy or irritating close to baby's skin. Check out your local dollar store or craft outlet for colorful squares of felt that can be cut into shapes and attached to the clothing, and for fabric flowers, leaves and other embellishments that you can add to a simple stocking cap. Baby will be warm, stylish and comfortable.
Onesies
A onesie is the perfect base piece to use in a baby costume. Green creates the background for your flower child, or a yummy vegetable that looks good enough to eat! Think fruits and veggies! An orange bodysuit for your little pumpkin is a Halloween-appropriate choice, or outfit baby as a pea-in-a-pod. Your little ballerina in a pink onesie only needs the addition of a frothy net skirt to be ready to take her Halloween bow. Add lightweight store-bought wings and Tinkerbell is ready to impress for Trick or Treat. A navy blue onesie gets accessorized with brown felt chaps and a jaunty bandana to turn your little guy into a rough and tough cowboy, or use it to transform him into a sailor or police officer with a jaunty cap and a few felt embellishments stitched right on: a badge or row of stripes showing his military rank.
Caps with ears instantly add charm. Disney Baby has a darling selection that creates the costume the moment baby puts it on. Who wouldn't be impressed and in love with a fluffy bunny, a squirmy frog or a friendly spotted puppy? Babies and animals are just a natural pairing, so outfitting your little one in a simple bodysuit with a special cap is a winning way to dress them up in a snap. Add whiskers with a few sweeps of makeup pencil and your precious pet is ready to party!
Quick tip
Make sure tiny hands are feet are staying warm with toasty mitts and socks.
Image credit: Disney Baby
More about Halloween
Celebrating Halloween with young kids
Clever and creative family photo tips
3 Witch-inspired Halloween lunch box treats