Celebrity Baby
Bump Watch
Happy Wednesday Hump Day — also known around here as Celebrity Baby Bump Day! Pregnant actress Malin Akerman debuts her baby bump for the first time, while pregnant Homeland star Claire Danes looks gorgeous and glowing in a black frock. Pregnant singer Shakira, Holly Madison and Kerri Walsh are also on our list of the cutest pregnant celebs of the week.
(page 5 of 5)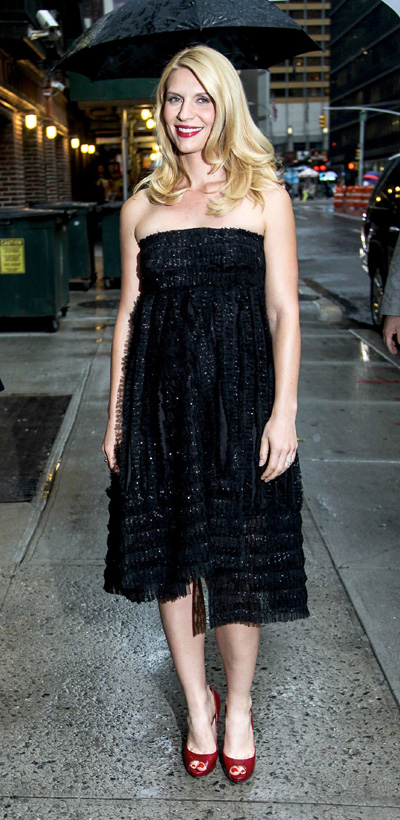 Claire Danes
Pregnant Homeland star Claire Danes looked gorgeous and glowing as she was spotted at the Ed Sullivan Theater for her appearance on the The Late Show with David Letterman.
The 33-year-old actress is expecting her first child with her actor husband, Hugh Dancy. She recently revealed that she is enjoying her pregnancy — however has had to cut back on caffeine.
"It (the pregnancy) is fine, I'm not drinking so much coffee, but it's fine," she said.
Her character on the show, Carrie Matheson, won't be pregnant so they have had to now use a body double to film some of her scenes.
"(Danes is) doing unbelievably well with the pregnancy, although she's showing considerably now," said her co-star, Damian Lewis. "She's extremely apologetic about the timing — which, obviously, isn't ideal — but as we all know, you don't time these things, do you?"
Lewis continued, "She didn't want the story to be compromised, so you won't suddenly see her character Carrie sitting behind a desk and typing with her belly hidden or anything like that."
Photo credit: WENN unless otherwise noted