Grand Old Party
Inspired Names
Are you looking for a Republican baby name for your All-American baby? We have rounded up some great girl names and boy names that represent the Grand Old Party, including names of Republican presidents, top baby names in traditional "red states" as well as cool and classic American baby names.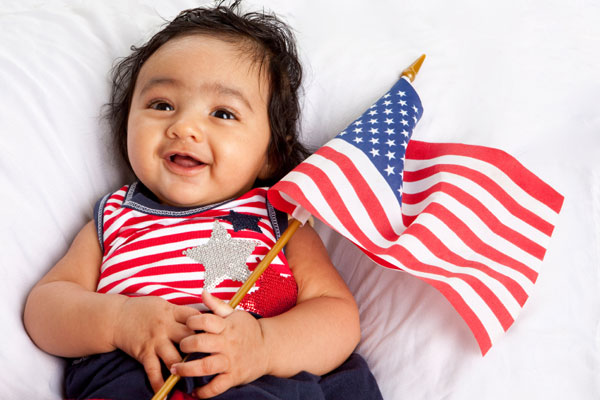 As the election draws near we thought it was the perfect time to round up our list of Republican baby names. (If you are a Democrat, don't worry, your list of baby names is coming soon!)
In case history class is a bit fuzzy, the Republican Party was actually founded by anti-slavery activists in 1854 and Abraham Lincoln was the first Republican president. Besides this being a great question for Jeopardy, we thought it was also a good place to start when rounding up Republican baby names.
Names of Republican presidents of the U.S.
Since Abraham Lincoln took office in 1861, there have been 18 Republican presidents of the United States thus far. Perhaps one of these names is the perfect choice for your future leader of the GOP?
It remains to be seen if the current Presidential nominee, Mitt Romney, will add his name to the list of Republican presidents of the United States.
Top baby names in "red states"
A "red state" refers to those states in the United States who primarily vote for the Republican Party, while a "blue state" refers to those states that vote primarily for a Democratic Party. There is also the "swing states" (sometimes called "purple states") where the majority doesn't support either party.
According to Wikipedia, the following states are considered "red states" so we thought it would be fun to take a look at the top baby names in these regions:
In Utah, the top girl names are Olivia, Sophia, Emma, Lily and Abigail, while the top boy names are Mason, William, James, Jacob and Samuel. The red state of Nebraska's top girl name is Emma, while Mason is also the top name followed by Jackson.
In Kansas, they also love the name Mason for a boy, while Sophia is tops in this Midwestern state. What about Texas? The home state of the Bush family loves the names Sophia, Isabella, Emma, Mia and Emily for girls and Jacob, Jayden, Daniel, Jose or David for boys.
Classic All-American baby names
The following All-American baby names are cool and classic and perfect for your future Republican baby! Even if your child falls a little more to the left than you do, these traditional names are great names that never go out of style.
Tell us
What is your favorite Republican baby name?
More baby names
Top 100 baby names in the U.S.
From Noah to Naomi: Biblical baby names
Preppy baby names