Motherhood and making healthy choices
Sometimes it takes hearing another woman's story of survival to help you see that in many ways you aren't truly living... that in some ways, you're living on autopilot. Ellie Schoenberger and Heather King delivered that much-needed message to me recently.
A to-do list that never ends
Your days undoubtedly look something like mine:
Get up.
Resist the urge to drink coffee directly from the pot.
Make breakfast through bleary eyes.
Prep and pack lunches.
Facilitate face washing and hair and tooth brushing.
Repeat at least 62 times, "Please put on your shoes and socks."
Hurry out the door for school drop-off.
Try to get as much work done in the blink of an eye that we call a school day.
Make dinner and nag your children to eat that dinner.
Corral the kids into the tub.
Oversee homework completion.
Facilitate hair and tooth brushing... again.
Tuck everyone in.
Empty lunch boxes.
Clean the kitchen and run the dishwasher.
Fall onto the couch in a heap.
Crawl into bed, vowing to find the time tomorrow to find time to take care of yourself along the way.
The stress and demands of the everyday have an insidious way of mounting over time, pressing and pushing until you're overwhelmed by the realization that something big will have to happen to make real change.
A message I needed to hear
As I headed off to Creative Alliance '12, a recent conference for 45 writers and other creative types in gorgeous Ojai, California, I hoped to come back feeling recharged. Four days away sounded like the perfect solution.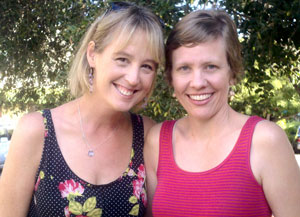 On the last full day of the retreat, we sat in a circle in the sun and listened to Heather King and Ellie Schoenberger lead a conversation called "Identity and Surrender" in which they talked, among many other things, about what happens when life happens.
They each shared bits and pieces of struggles they've faced and bravely overcome in recent years.
Ellie and Heather recalled Ellie's battle with cancer and their words pierced through me. Ellie described lying in bed, with the sounds of family life carrying up the stairs to her room. She recalled how difficult it was to lay there and listen to the sound of someone else mothering her children.
Their message was bigger than I can summarize and do justice to here, but in that moment, there in the warm sunshine looking at Ellie's beautiful face... the face of a survivor... I had a moment of realization.
"As I listened to her words, I grew angry with myself."
As I listened to her words, I grew angry with myself. Angry that I take my health for granted... ashamed that I don't take better care of myself. Because I can but I don't.
During the daylong drive home from the retreat, her words kept swirling through my mind.
A commitment to healthy changes
This morning, I put on my running clothes, laced up my running shoes, unearthed my neglected treadmill and I ran.
I ran for Ellie.
I ran for my family.
I ran for myself.
Tomorrow, I will quite likely hobble to get there, but I'll repeat the process over again.
And I will strive to remain mindful of just how fortunate I am that I can.
Thank you, Ellie... a million times over.
Read more about taking care of yourself
Why "me time" is such a big deal
The science of thought: How changing your thoughts can change your health
Why "me time" is essential to your health