Celebrity Mom
Cover Girls
What celebrity moms were cover girls this month? Gwyneth Paltrow looked gorgeous on the cover of InStyle magazine and the celeb mom opened up about family time with Apple and Moses — as well as her new diet. Kate Hudson graced Harper's Bazaar and chatted about her new BFF Gwyneth, while Britney Spears talked paparazzi to Elle. Marie Claire featured the gorgeous Gwen Stefani, while Good Housekeeping chatted with Jamie Lee Curtis.
(page 5 of 5)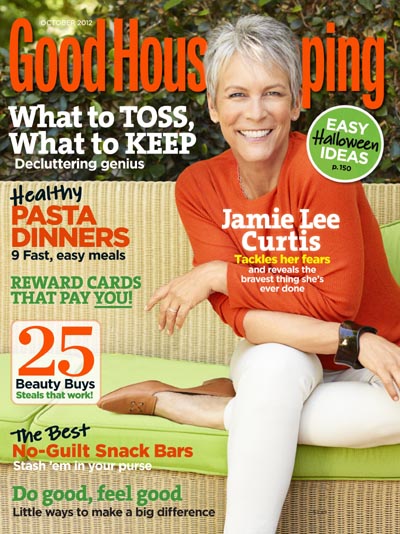 Jamie Lee Curtis
NCIS actress Jamie Lee Curtis, 53, looked chic and casual on the October 2012 issue of Good Housekeeping. Curtis, who has two children (Annie, 24 and Thomas, 15) opened up about not repeating the same parenting mistakes that her own mom did.
"Failure sounds like there's an end to it," she said, when asked if she felt like she failed at anything. "I struggled with addiction, and for a long time I felt like I was failing. I feel like a failure as a mother a lot, because despite my best efforts, I have replicated parts of how I was parented [that I didn't want to]. Even though I vowed not to and felt like I was doing it so differently, in many ways I repeated some of the same problems."
Despite just facing her fear of running after finishing a 5K, she said something else qualifies as the bravest thing she's ever done.
"Getting sober [13 years ago] was the single bravest thing I've ever done and will ever do in my life. Not [running] a 5K — facing an addiction. Being courageous enough to acknowledge it privately with my family and friends. Working really hard at solidifying it, getting support around it, and being healthy. And then talking about it publicly. That is the single greatest accomplishment of my life."
Photo credit: Good Housekeeping