Celebrity Mom
Cover Girls
What celebrity moms were cover girls this month? Gwyneth Paltrow looked gorgeous on the cover of InStyle magazine and the celeb mom opened up about family time with Apple and Moses — as well as her new diet. Kate Hudson graced Harper's Bazaar and chatted about her new BFF Gwyneth, while Britney Spears talked paparazzi to Elle. Marie Claire featured the gorgeous Gwen Stefani, while Good Housekeeping chatted with Jamie Lee Curtis.
(page 4 of 5)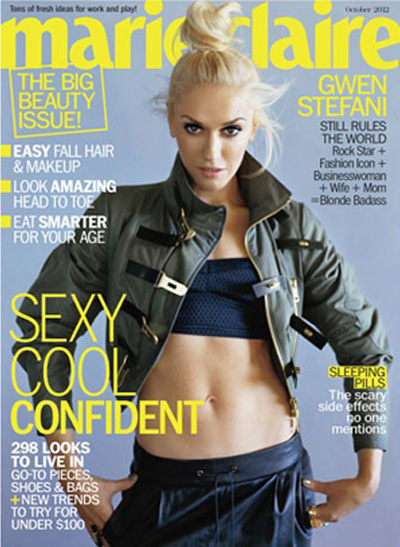 Gwen Stefani
There is "No Doubt" about it — Gwen Stefani is one rock star mama! The stylish mom, who has two sons, Kingston and Zuma, opened up in the October 2012 issue of Marie Claire that she wanted a third child...
"I really, really, really wanted one about two years ago. And it didn't really work out. So... I feel good with what we've got. Everything works out how it should. You can't plan anything, right? You can try," she admitted.
The 42-year-old singer said that her two boys are non-stop energy! "From the moment they wake up, they start beating on each other. I never knew they would be so physical. They're just starting to play real well together, but with a lot of fighting. They do look out for each other — especially the little one, he really loves his older brother."
She just celebrated her 10 year anniversary with her husband Gavin Rossdale and said that "my biggest accomplishment is my marriage so far."
Next up: Jamie Lee Curtis talks about getting sober in Good Housekeeping
Photo credit: Marie Claire