Breast Cancer Doesn't Care If You're A Mom
October is National Breast Cancer Awareness Month. It's a time to spread awareness about breast cancer, a disease that will strike one out of every eight women. A disease that is the second leading cause of death in women. We collected the stories of women — who are also mothers — who have battled breast cancer. They are all brave and beautiful.
(page 7 of 7)
Betty W. Walker, mother, grandmother and great-grandmother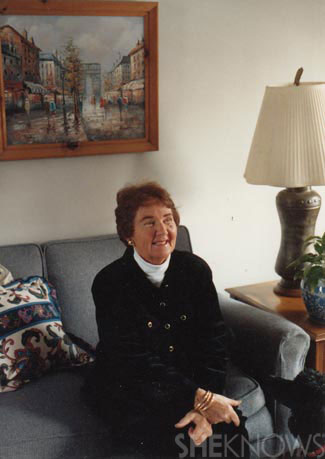 Sarah W. Caron, SheKnows Parenting writer, shares the story of Bett, her grandmother who sadly lost her battle with breast cancer.
Breast cancer had always seemed so distant and unreal until it touched my own family. In 1994, my grandmother was diagnosed, fought for her life and ultimately lost the battle, devastating my family. She was the center of our family, buoying us through good and bad times.
Bett lived an extraordinary life. She modeled in Vogue in the 1940s. She had her name in spotlights. When my grandmother was 20, she was a professional synchronized swimmer. She traveled with Billy Rose's Aquacade, performing their intricate swimming routine in city after city. For a time, she even was the star of the show, when one leading lady left and before another arrived.
And above all, Bett loved life. She found great joy in watching Broadway shows and made shopping an incredible adventure. And she loved sharing all of it with her family. But I will never forget the moment that it seemed my vivacious grandmother was getting ill. My grandfather slipped on ice, breaking his hip and when the ambulance came, she didn't go with him. Instead, she sat slumped in a chair, looking very unlike herself. Weeks later, the diagnosis came. Breast cancer.
"I remember her active description of the MRI machine, which was shared using a large pasta pot and wooden spoon."
At first, she maintained her energy and humor. I remember her active description of the MRI machine, which was shared using a large pasta pot and wooden spoon. And when I graduated from middle school that spring, she was there looking very much herself in a black turtleneck, gold jewelry and wearing a big smile. But when she didn't join us for lunch, it was clear things weren't the same.
She received treatments. Had a wig styled just as she'd worn her hair for years. She kept going. That summer she slept in a makeshift bedroom at our beach home. Spending that last summer near the beach she loved was a blessing — and conveniently located near the hospital where she went for treatments. And as fall came, she was still hanging on.
But then things changed. There were days when she wasn't lucid. There were arguments as the stress of the illness turned family members into adversaries. And finally, there was the end, when she no longer woke and breathed in only raspy breaths.
I wish I could forget the last days. I wish I could corner them off in the recesses of my mind and never think of them again.
However, while my favorite memories are when my grandmother was healthy and active, I cannot escape that moment when I heard her raspy breath stop. And then there was silence.