Breast Cancer Doesn't Care If You're A Mom
October is National Breast Cancer Awareness Month. It's a time to spread awareness about breast cancer, a disease that will strike one out of every eight women. A disease that is the second leading cause of death in women. We collected the stories of women — who are also mothers — who have battled breast cancer. They are all brave and beautiful.
(page 6 of 7)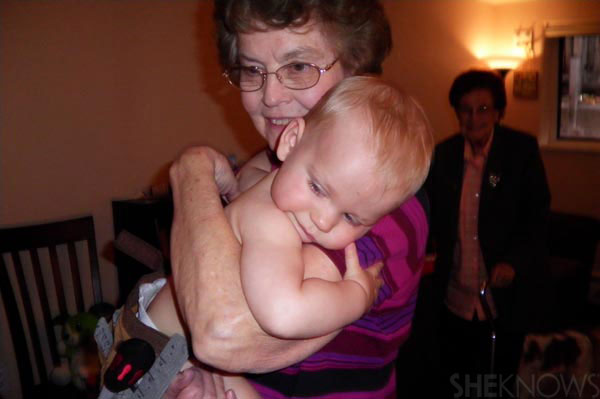 Lois Herbaugh, 78, mother of 2, grandmother of 3 and great-grandmother of 8
"For as long as I can remember, my great Aunt Lois has always been the most vivacious and active 'older' person I've ever known." says Tracee Herbaugh, SheKnows Parenting writer. "She is a great-grandmother to eight, but acts nothing of the sort.
"In her 70s, she still roller blades with her great-grandkids, works in the garden or on other home improvement projects around the house. She reminds me of the famous World War II image of Rosie the Riveter. She is so tough, yet feminine at the same time. I cannot recall a time when she has ever been sick, tired or complained of any discomfort, whatsoever.
"So, when she was diagnosed with breast cancer it seemed impossible. Fortunately for us, the cancer was diagnosed early on — stage 1 — and Aunt Lois is now fine. She has written about the time in her own words."
The day I learned I had breast cancer was an ordinary day. I figured if I had it, we'd deal with it. I suppose if I had had small children, I would have been more concerned.
Several days prior I had my yearly check up with primary doctor. He detected a little lump and sent me to the doctor who does breast cancer surgery. (Two weeks prior, I had a mammogram that didn't show anything). She took a biopsy and another test and said she was pretty sure there was something in there.
"I didn't focus on the possibility, as I wasn't afraid."
It took four or five days to get the report because of the weekend. I didn't focus on the possibility, as I wasn't afraid. I said, we'd deal with it. I wrote my kids about what went on and a couple days before I got the results, my daughter called and asked about them.
"Results of what?" I asked.
She said, "Mom, about cancer!" She thought I'd gone to the wrong doctor. Perhaps she thought I needed a head doctor. Ha!
When the doctor called with the results she said there is a tiny speck of cancer in a lump about the size of a pea. "OK," I said. "What is the next step?" I didn't tell a lot of people and many asked why I hadn't made it known. I told them I didn't advertise when I had a root canal or sinus infection. The incision for the lumpectomy was very small and had two little incisions for lymph nodes. All was clear. I suffered no pain particularly — some discomfort, of course, but all healed well in due time.
I am in very good health otherwise. The team of doctors didn't feel there was much chance of cancer coming back, but as a precaution I had 16 sessions of radiation. Life went on as usual. The surgery was in July 2011. Radiation was complete last September and I started tamoxifen, which I will take for five years.
The hardest thing of this all is that I had taken hormones since 1965. My system was very stable. I feel I have had withdrawal from Premarin. I can't say I suffer when I know what people go through with chemo, but I have been very uncomfortable with hot flashes. After about six months I do think I have been more tired, but I am getting old, so that comes with age perhaps.