Breast Cancer Doesn't Care If You're A Mom
October is National Breast Cancer Awareness Month. It's a time to spread awareness about breast cancer, a disease that will strike one out of every eight women. A disease that is the second leading cause of death in women. We collected the stories of women — who are also mothers — who have battled breast cancer. They are all brave and beautiful.
(page 5 of 7)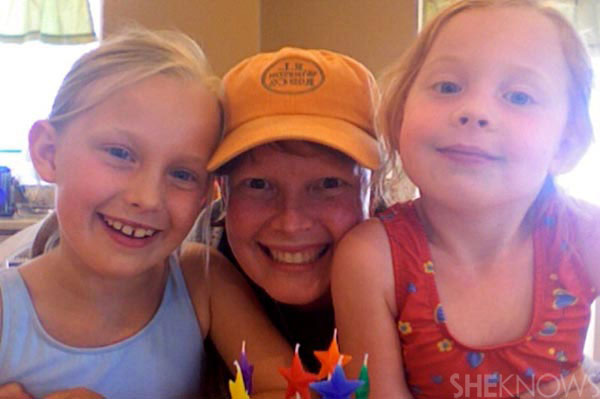 Margot, mom of 2
Four years after battling breast cancer, mom of two, Margot, is, as many breast cancer survivors are, a wealth of valuable information. Not only does she not mind sharing her story with friends, and even strangers, Margot does so with a witty, yet kind, sense of humor and practicality that makes the fear of the topic of breast cancer melt away... at least a little bit.
Margot shared these 10 things with us about living through her breast cancer experience and now as a breast cancer survivor:
1. On mammograms: When it comes to mammograms, remember to get your mammogram at the same office every year. It helps them compare the images from one year to the next. Also, sometimes, an ultrasound is necessary as well — Margot's worst breast cancer spots were visible via ultrasound, not mammogram, which tends to be more common if you are a younger breast cancer patient. And, what does Margot think about the new breast cancer screening guidelines? Let's just say she has some choice words. "Mammograms won't find them all, but they'll find more than not looking at all," she points out.
2. On awareness: The best website for breast cancer information is breastcancer.org.
3. On gifts: Margot says that the best gift she received was a pink boa from a breast cancer survivor that came with a note telling her to wear it to her surgery because it would make the nurses smile. Second best gift? Day before surgery "good luck" flowers from family and friends.
4. On being a mom with breast cancer: Telling her kids wasn't as hard as Margot expected it to be. Margot kept them informed about what was happening during her surgeries and treatments and, as she says, "They took it in stride because I explained it that way to them."
5. On what not to read: If you find out you have breast cancer, there are tons and tons of books to inform yourself. Never read the last chapter.
6. On mastectomies: Margot chose to have a full mastectomy, even making the decision to do so before having a biopsy on the more than eight spots that her doctors were concerned about. Come to find out, post-mastectomy, they found a spot that had been undetectable on the MRI that had Margot simply had a lumpectomy, would have come back to haunt her. "There was essentially a Milky Way of bad stuff in my left breast trying to kill me," Margot says.
7. On getting a new rack (as she calls it): That being said, Margot choose to have reconstructive surgery a year after having her breasts removed. And, Margot shares that there were certainly some upsides to being breast-free for that year. Not only did it make some of her favorite activities, like skiing, a bit more freeing, but she also says that there was something about being able to hug her husband so close — to be practically heart to heart, without her breasts in the way — that she even misses to this day.
"Losing your hair is hard."
8. On losing her hair: "Losing your hair is hard. I had to get over that and I tried to make it really fun." Margot says that she was never one of the women who was "bald and proud" and tells us that she usually kept her head covered up, mostly for the benefit of other people. But, as Margot's hair slowly started to return, she decided that she needed to brave it — starting with a trip to Costco wearing only a bandana over her new fuzz. "I felt like somebody out there needed to see that because it would help them somehow."
9. On being an example: Margot always brought girlfriends with her to her chemo treatments and appointments — not just to have them there to hold her hand, but to educate them and open their eyes to what having breast cancer is really like. She knows that statistically, at least one of her friends will end up with breast cancer and Margot doesn't want them to be unprepared for what lies ahead, like she was. Margot also always lets her friends know that she is available to be their date to mammograms, treatments and surgeries.
10. On gettin' it done: If you're going to get it, you may as well find out sooner rather than later so that you can do something about it. "Find it, get rid of it, move on," Margot wisely suggests. "Don't be scared about finding it or getting it. It can be beaten, gotten over, whatever you'd like to call it. But, you really have to know about it sooner rather than later to have the best shot at that."
Read more from Margot on her blog, Mommythoning, including her posts from June 2012, where she dedicates the month of posts to breast cancer related topics.