Breast Cancer Doesn't Care If You're A Mom
October is National Breast Cancer Awareness Month. It's a time to spread awareness about breast cancer, a disease that will strike one out of every eight women. A disease that is the second leading cause of death in women. We collected the stories of women — who are also mothers — who have battled breast cancer. They are all brave and beautiful.
(page 4 of 7)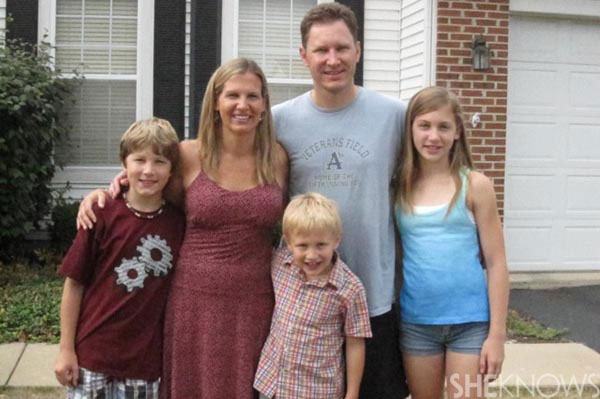 Brigitte, mom of 3, from Minneapolis, MN
People always ask me if I felt a lump, how did I know? I actually had no idea. I was at the doctor for an annual physical and knew it might be more than a year before I returned. I asked him if I could get a mammogram.
In the back of my mind, I was thinking of a neighbor who was diagnosed with breast cancer — a little older than me with three kids, just like me, and she had recently learned her cancer had returned.
I was 37 with no symptoms, no family history. My doctor easily could have said I should wait until I was 40. He didn't blink an eye and sent me off to set up an appointment. I will always be grateful he respected my request.
Two months later, I went through a double mastectomy with reconstruction. I was diagnosed with DCIS (ductal carcinoma in situ). They caught it early — even called it a stage 0. There was no lump, no tumor to be removed, but a wide spread of very aggressive and abnormal calcifications in my left breast left me with just one option: A mastectomy.
I chose to have a double mastectomy because I was young and wanted things to look even. More importantly, I wanted the peace of mind that it wouldn't come back in the other breast. Even with my early stage of cancer, I truly believe that the double mastectomy was the right choice for me.
It was all very surreal to go in for a major operation when I never even felt sick. There is no way to sum up this experience, but three moments are forever seared in my memory when I think back to that time.
The first was when the receptionist informed me that they needed to do a biopsy. I wandered back to my car, called my husband and sobbed. Every time I go back for a follow-up appointment and drive into that parking lot, I go back to that moment.
The next was receiving my diagnosis over the phone while at the park with my kids — hearing the words and then collecting the kids, and ending any small talk to the other moms I knew, trying to act as if nothing significant had changed in the previous five minutes of my life.
My husband and I didn't want to talk about the "what if's" and we were lucky that we didn't have to. While still in the hospital, the doctor reported that the pathology report was clean, that the cancer was in fact contained and had not spread to my lymph nodes. Those were tears of joy and relief. That meant I didn't require radiation or chemotherapy, only medication — tamoxifen — for four years. I could do that.
"After my diagnosis I would cry quietly in bed at night thinking of the worst."
After my diagnosis I would cry quietly in bed at night thinking of the worst. No matter that my odds were in my favor, no matter how great the prognosis, I still couldn't get past the thought of dying. My sadness mostly was fueled by the thoughts of not being there for my kids, who at the time were 2, 5 and 7. I would make bets in my head saying, "Please, just let me see Connor get to kindergarten so he will be old enough to remember me."
Today, I would be lying if I said that I didn't think about the cancer coming back. I think about it often. I think about it more now as I learn all too frequently of friends and relatives learning of their cancer diagnosis, without the same optimistic outcomes that I was given. I quietly hope in my heart still that I have the opportunity to see my kids graduate, go to college, make a life for themselves, become independent and happy people. I am looking forward to my 44th birthday this week. I don't need a celebration or a party — just knowing I get to turn another year older is good enough for me.