Breast Cancer Doesn't Care If You're A Mom
October is National Breast Cancer Awareness Month. It's a time to spread awareness about breast cancer, a disease that will strike one out of every eight women. A disease that is the second leading cause of death in women. We collected the stories of women — who are also mothers — who have battled breast cancer. They are all brave and beautiful.
(page 3 of 7)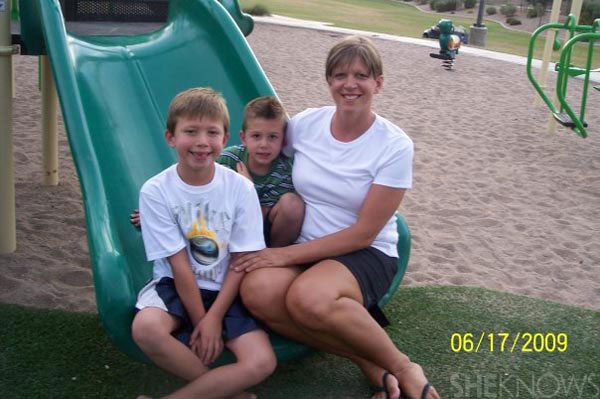 Pam Coakley, mom of 2, from Chandler, AZ
Pam Rutkowski Coakley was in the final stages of getting divorced when she discovered a very small lump under her right breast in November 2008. "I must say I was very lucky to have an itch — that is the only reason I felt it."
She went to the doctor the next day, had a mammogram and then had a core biopsy of the lump. Results came back on December 7 confirming it was breast cancer — infiltrating ductal carcinoma, estrogen and progesterone positive HER 2+. Fortunately, Pam's cancer had not spread into her lymph nodes and it was Stage 1.
"You must be kidding me? How did I get this and why did it pick me?"
Still, it was a complete shock. She had just turned 40 that September, and Pam was the only person in her family to have breast cancer. She remembers thinking, "You must be kidding me? How did I get this and why did it pick me?"
Pam's boys — Billy, 6 at the time, and Jake, who was 4 — didn't understand what she was going through. Pam read them age-appropriate books and assured them over and over that she was going to be OK.
Pam got a lumpectomy in January 2009 and started chemotherapy in March, which lasted until the end of June. Her hair began to fall out 14 days after she started chemo, but she wore a wig and even took a fun trip to Vegas with her girlfriends to celebrate their friendship after she finished 30 radiation treatments. When radiation was over in September 2009, her boys made her a celebratory sign that said, "Our Mom's Done w/Her Medicine!!" Pam currently takes tamoxifen and will be on it for a total of five years.
Today, Pam is a three-year breast cancer survivor, and her advice for women who are battling this disease is to stay positive, positive, positive! Pam says, "I was positive and open-minded during my whole experience. I had tons of support from my family and friends. I attended a breast cancer support group and the ladies I met were incredible."
What inspired Pam to fight her breast cancer battle? Her two boys, Billy and Jake. "They were my inspiration. I knew I had to fight for them. I couldn't even imagine not being in their lives. They are my everything."