Celebrity Baby
Bump Watch
It's Wednesday Hump Day — which means it's time for our roundup of the cutest pregnant celebs of the week with our Celebrity Bump Day! Singer Shakira just announced she is pregnant — but can you spot her baby bump? Megan Fox is getting bigger by the day, while Olympic volleyball player Kerri Walsh surprised everyone by saying she was pregnant during the Olympics! Amber Rose and Claire Danes round out our list of cute pregnant celebs of the week.
(page 5 of 5)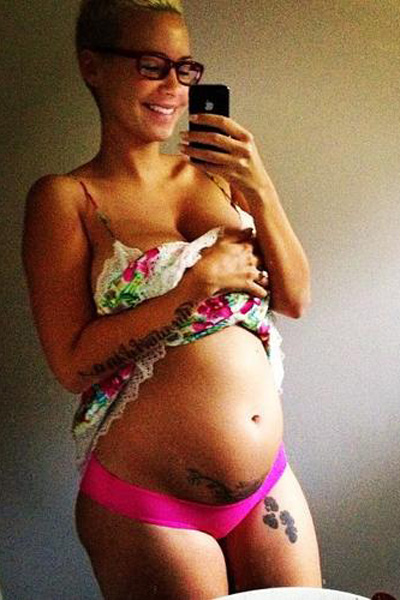 Amber Rose
Amber Rose tweeted a photo of herself in pink undies and exposing her tattooed baby bump, writing, "Our lil wizbud is growing so fast."
The 28-year-old model and her fiancé, rapper Wiz Khalifa, are expecting their first child together. They made their baby news announcement at the MTV Video Music Awards.
"I think our Wizbud is putting on a concert like his/her Daddy in my stomach Lol cuz Muva is Nauseous But all the nausea is so worth it," she recently wrote about her morning sickness.
It sounds like Rose is enjoying her pregnancy — which is a good thing since it sounds like the couple wants a lot of kiddos... er wizbuds.
"He wants 12 kids!" she told MTV News.
From a very pregnant Reese Witherspoon to Sugarland's Jennifer Nettles, check out more celebrity baby bumps here >>
All photos WENN unless noted otherwise