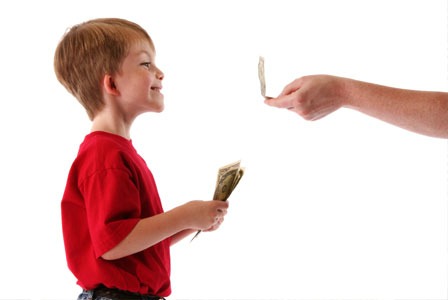 For some families, that number might seem extremely low, while for others, it's astronomical. A variety of factors come into play when setting your child's allowance.
Should kids get an allowance?
The first question you should answer is whether your children should get an allowance at all. Some families don't believe in giving an allowance and instead pay for all their children's wants and needs. Other families only provide an allowance if kids complete certain chores each week. Most experts will agree, however, that providing a child with an allowance can help teach them about earning, saving and spending money — lessons that are essential to building the foundation for a successful financial future.
Setting an allowance
If you have decided to give your children an allowance, the next thing to figure out is how much they should get. Every family situation is different, so there is no catchall answer to this question. When setting an allowance, consider the following factors:
What's age appropriate?
So what's a reasonable amount, and at what age? Well, you can start giving an allowance to children as young as a year old (or even younger if you like). It's important for kids to start learning about the value of money at a young age.
Need a little more help to figure out how much to give your kids? You can also try this
allowance calculator
to help decide how much money your children should receive.
Many parents provide an allowance of a dollar for each year of the child's age. A 6-year-old would get $6, a 12-year-old would get $12 and so on. This may be a general guideline that you can use to determine the amount of your child's allowance.
Limits and expectations
Many will say that you shouldn't give your children any type of allowance unless they are earning it. This is a decision that every parent must make. It may behoove you to set a list of limits and expectations that come with the allowance. For example, you can set up a chore chart and let the children know that if they don't complete all their chores each week, they will be forfeiting their allowance or a portion of their allowance. Also set spending and saving limits if you like. Some families require their children to save at least half of their allowance, while other families allow their kids to spend their allowance on anything they wish. By setting the ground rules from the beginning, your kids will understand what they need to do to earn their allowance and how they can spend it.
More about family finances
Mom vs. Dad: The allowance debate
Talking to kids about financial struggles
Teaching your kids about money and debt
Please note: Articles and other information included on this website are intended for the general interest of our readers, and are not intended to provide, and do not constitute, legal, financial, health or other advice. Gerber Life makes no claims, representations or warranties as to the accuracy, completeness or appropriateness of this general interest information for your particular circumstances. If you need legal, financial, health or other services, you should contact a duly licensed professional.