Celebrity Baby
Bump Watch
Who made our list of cutest pregnant celebrities of the week for Celebrity Baby Bump Day? Pregnant Homeland actress Claire Danes finally looks "knocked up," while very pregnant Melissa Joan Hart looks beautiful in a blue Isabella Oliver dress. Reese Witherspoon is also due any day now, but still looks fab. Gisele Bundchen's supermodel bump and newly pregnant Holly Madison round out our list.
(page 4 of 5)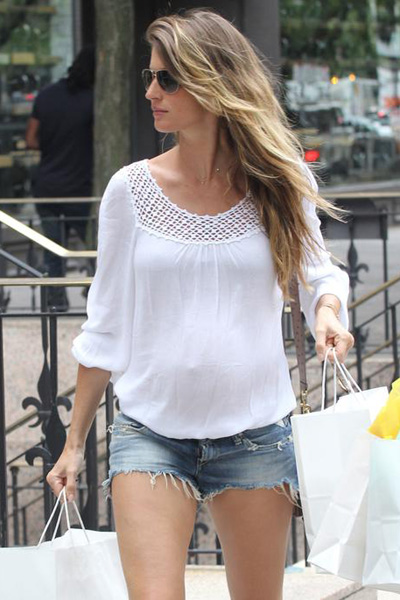 Gisele Bundchen
Supermodel Gisele Bundchen looked picture perfect in a white blouse paired with cut-off jean shorts while doing some shopping. Revealing her belly button and toned legs, Bundchen said she only gained 30 pounds during her last pregnancy with son Benjamin in 2009 by keeping active with kung fu and yoga. Don't mess with this supermom!
Bundchen's husband, New England Patriots quarterback Tom Brady, recently cut his nose resulting in a small scar on his gorgeous face. "Yeah, it's OK," he told reporters. "My wife likes it, so I'm good."
Next up: Pregnant Holly Madison shows off her pooch!