On The Front Lines
Moms are an impressive lot. Whether juggling a dirty diaper in one hand and a latte in the other or helping to solve the world's energy crisis, mothers are uniquely qualified to make a mark on the world around them. Case in point: The Athabasca Oil Sands Project in Alberta, Canada.
(page 2 of 6)
Anita Spence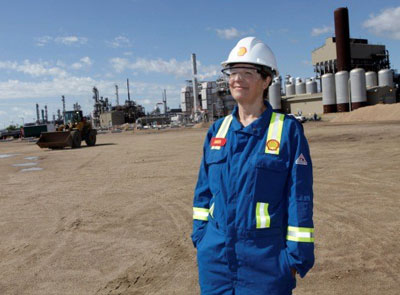 Anita Spence is the Quest Carbon Capture and Storage (CCS) project manager, a mother of three and grandmother of two. Since 2010, she's managed Shell's $1 billion CCS project, overseeing construction, technical development and operations, including significantly reducing the CO2 impact of the Oil Sands Project.
"I think it is very important that your job is actually something you enjoy doing. Because of that, I have found that work has been a great stress reliever when my girls have been particularly challenging. The majority of times it is the other way — that the family is the stress relief for work. So many of the skills you need as a parent are the same as those that you need to succeed in the workplace especially communication and interpersonal skills. My volunteer hours in the elementary and junior high systems were the best diversity training an individual could ask for. To have been able to do both has been very fulfilling."