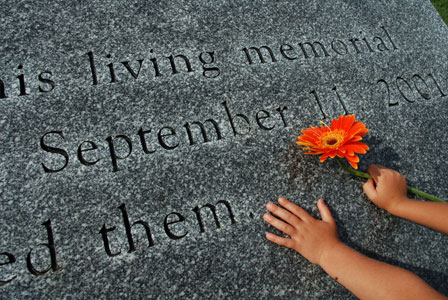 The date September 11, 2001 became etched in history 12 years ago. How do you explain to kids the sheer magnitude of what happened? And how do you reassure them about the acts of terrorism on U.S. soil?
Teaching kids about September 11, 2001
For so many people in the U.S., September 11, 2001 is a day forever engraved so deeply in memory that it could have been yesterday. That Tuesday, the brilliant blue sky, warm sunlight and crisp morning air striking in its beauty was shattered when everything changed fundamentally in an instant.
But for children — both those who were very young on that day and those that hadn't yet been born — the terrorist attacks of September 11, 2001 are a little removed. What were they? What does it mean? And how did it all change our world?
As parents, it's our job to explain these things to our children.
Explaining 9/11 to kids
Whether your children are in preschool, elementary, middle or high school, it's important that you speak about that tragic and devastating day with them so that they understand the heartbreak that America collectively felt. September 11, 2001 is a part of our modern history. How should you do it?
Using books to talk about the attacks
Books can really help you with explaining 9/11 to kids, when you aren't sure where to start. "Sometimes it's hard to know what to say. But there are lots of age-appropriate children's books about 9/11 that can help get the conversation going," says Michael D. Baran, Ph.D., a cultural anthropologist and director of Cambridge Diversity Consulting.
Here are a few that might be good for your kids:
Keep it age appropriate
Older children are probably ready to hear and see more about the attacks so that they can understand what happened more deeply. But for younger children, it's enough to be truthful without sharing everything. "To the younger children they will be told that there are some people who do not like our country. These bad people thought that it was important to hurt the United States in a very bad way. What they did caused many people to die and suffer much pain," says Lorna Kemper, a 1st grade teacher at Gethsemane Lutheran School in Tempe, Arizona.
And really, isn't that what it's really about? In the simplest of terms, the attacks of 9/11 came down to decisions that were made to hurt innocent people because of a hatred for the country that we love. Teach your children to take pride in the country they live in by honoring days such as 9/11 each year. Most adults will remember vividly in the days, weeks and months following the attacks how many homes raised an American flag and flew it proudly. Fly your flag and remember those who were lost, and you not only help your kids learn, you help our country band together.
More about communicating with kids
How to talk to your kids about racism
Parenting Guru: Talking about school shootings
How to talk to kids about natural disasters