Celebrity Baby
Bump Watch
Happy Celebrity Baby Bump Day! Singer Adele finally showed off her baby bump in a black dress in London, while newly pregnant Holly Madison was spotted out with her itty-bitty bump. A possibly pregnant Amber Rose wore a flowing dress to try to hide her maybe baby bump, while Carson Daly's pregnant girlfriend, Siri Pinter, looks adorable. Lastly, we caught Tori Spelling right before she gave birth to her son Finn.
(page 5 of 5)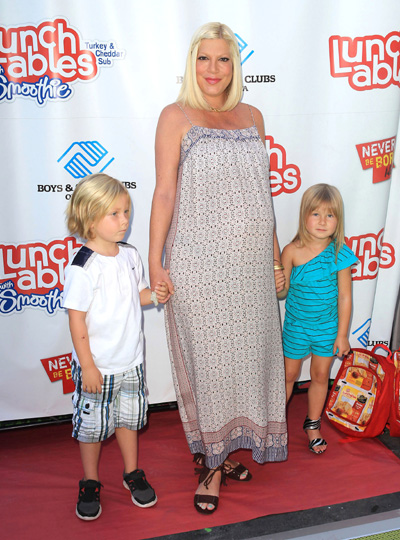 Tori Spelling
Tori Spelling was spotted out at the Lunchables Team and Club Kids event with her daughter Stella and her son Liam just two days before she gave birth to her fourth child, a son named Finn Davey. Her little boy was born just 10 months after her daughter Hattie was born!
Spelling looked cute and comfortable in a printed maxi dress paired with strappy sandals and blue nail polish.
She announced the news on her website, revealing that Finn weighed 6 pounds, 6 ounces and measured 20 inches in length.
Photo credit: WENN unless otherwise noted