Celebrity Baby
Bump Watch
Happy Celebrity Baby Bump Day! Singer Adele finally showed off her baby bump in a black dress in London, while newly pregnant Holly Madison was spotted out with her itty-bitty bump. A possibly pregnant Amber Rose wore a flowing dress to try to hide her maybe baby bump, while Carson Daly's pregnant girlfriend, Siri Pinter, looks adorable. Lastly, we caught Tori Spelling right before she gave birth to her son Finn.
(page 4 of 5)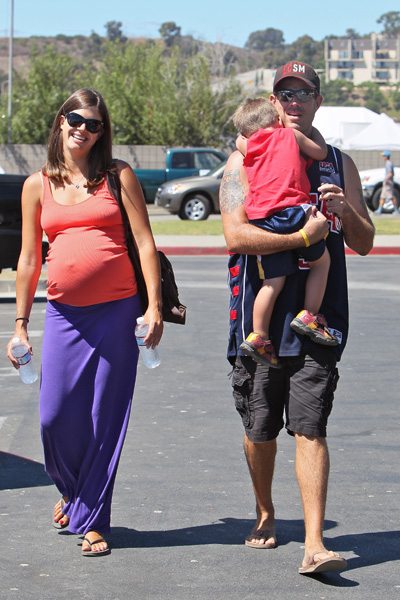 Siri Pinter
Carson Daly holds his son Jackson James while arriving at the Malibu chili cook-off with his pregnant girlfriend, Siri Pinter. The couple is expecting their second child together, which is reportedly a girl! Pinter, 38, looked cute and colorful in a coral tank and purple maxi skirt paired with flip-flops.
Pinter recently shared her pregnancy cravings on her blog, Siriously Delicious. "Something about being pregnant makes me nostalgic for foods I loved as a kid, like cans of black olives and applesauce mixed with cottage cheese. I know it doesn't look appetising, in fact Carson makes me eat it far, far away from him. But it's delicious, trust me," she writes.
Also on her agenda? "Eating the famous 'Maternity Salad' at a restaurant in Studio City that is supposed to induce labor!" she wrote. "Apparently, pregnant women flock there everyday to eat this famous dish that is supposed to induce labor. The ingredients are basic: romaine, watercress, gorgonzola, walnuts AND their super secret special dressing that you can purchase online. It's the dressing that apparently does the trick. They claim it's made from natural ingredients, but if it truly does "work" I'm going to guess it's either laced with castor oil or pitocin."
Next up: Tori Spelling's last pregnancy photo