From Pageants To Marina
You might know Tara Perry as Marina, the drummer from Nick Jr.'s hit show the Fresh Beat Band. But what you probably don't know is that Perry always wanted to be in show business — and moved to L.A. on her own at 19 to follow her dreams.
(page 2 of 3)
Role models for kids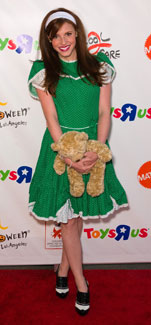 The Fresh Beat Band is a show that stays firmly planted on the more positive side of things, showing a group of kind, generous friends who help each other out. Perry says that one of the things she loves about being on the show is how it encourages the arts in young people. "It's all about being a rock star to yourself and I think that's so cool. I did singing and dancing and art as a kid and I think that's so good [for young people]," says Perry.
She also really appreciates the focus on good friendships.
When Perry isn't working, she says that knowing her character is a role model does impact her choices a little. "To a point yes, because you are always aware of your surroundings. We are all in our mid 20s or older, and we're adults so we go out," says Perry. However since the cast is a little older, that makes it a little easier. "We didn't grow up in the limelight so that Lindsay Lohan-like stuff we didn't do in front of the cameras... And we were good kids."
The road to L.A.
Long before Perry became the bubbly Marina on screen, she was a girl with a big dream of being on stage. After going off to college, Perry left school at Ole Miss when she was 19 to move to L.A. and pursue her dream. "My parents are incredibly supportive and it's funny to me to think that I moved to California at 19. I want to high-five my parents and say thanks for trusting me," says Perry, who says she's incredibly thankful for their support.
Advice for parents
Have a theatrical child who dreams of being on stage? With the popularity of shows like the Fresh Beat Band and Glee, more and more kids are getting interested in the arts.
What should you do? Perry says to encourage their interests. "It is such a great outlet for kids. I feel like it's going to help them develop in their teenage years as well," says Perry.
She says that if she has a child who wants to be on stage, "I will be very excited."
Perry's dream of working in the arts started when she was young. Once on a vacation to California when she was about 10, her family walked past a talent agency and Perry had them take a picture of her, saying that she'd be back there someday. Her parents agreed that it would happen. Now, Perry wishes she could locate that picture, since the dream came true.
When she was in her preteen and teen years, Perry was in pageants, including Junior Miss. "It was another outlet for me to be on stage," says Perry. She especially enjoyed the pageants with platforms that allowed her to learn about an issue and educate others about it.
In high school, Perry stayed very active, doing theater, sports, dance and more. "I played almost every sport there was except basketball," says Perry. She says that being so involved was good for her. "I was just surrounded by good people. When you keep your mind active like that you tend not to let your mind wander away."