Teaching kids about the value of work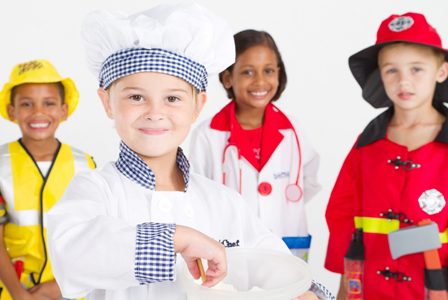 Labor Day weekend is almost here. Time to enjoy one more long weekend before the summer weather fades away. On Labor Day, family and friends get together to enjoy barbecues, community events, festivals, parades, picnics and other fun activities.
The history and meaning of labor day
Whether you are going to the park, heading to the lake or hanging out at home this weekend, you should also use this time to teach your kids about the meaning of Labor Day.
The history of Labor Day
Labor Day is celebrated on the first Monday of September. This holiday is dedicated to appreciating the contributions of the working class and how they help build our country's strength and prosperity. Labor Day has been a national holiday since 1894 and is often celebrated with summer activities. Considered the unofficial end to summertime, families often host barbecues, go camping, have picnics or attend parades.
Take your child to work
In the days surrounding Labor Day, take your children to work with you. Show them around and allow them to meet different people at your workplace who can talk to them about their jobs too. This is a great way to expose kids to various types of work. Talk to them how each specific job is important and how each person contributes to the company and society.
Let your child work
No matter how young your children are, you can teach them about labor through action. Kids can work by doing chores at home -- from dishes to yardwork. They can also babysit, deliver newspapers, care for pets or help neighbors with chores. Discuss how certain kinds of work can help other kids -- becoming a tutor to younger children, teaching computer skills, volunteering at kids' clubs or helping out at children's centers.
Labor Day books
Check out books from the library to teach your children about different jobs and how everyone's work is important to the community. Some book ideas for little ones include:
Jobs People Do by Christopher Maynard
A Job for Wittilda by Caralyn Buehner
Labor Day (Rookie Read-About Holidays) by Carmen Bredeson
I Want to be a Police Officer by Daniel Liebman
Tortoise Brings the Mail by Dee Lillegard
These books teach children about various careers that may interest them, as well as the value of labor and the importance of taking pride in workmanship.
Labor Day crafts and games
Young children can cut out pictures from magazines of people doing different kinds of work and glue them to construction paper. You can also play games by asking children to match which type of tools (judge's hammer, dentist's drill, gardener's rake, etc.) are matched to which job. Check out these other Labor Day crafts for kids including puppets, thank you cards and more.
More about Labor Day
Labor Day weekend activities
Family-friendly, mouth-watering Labor Day recipes
Throw a family-friendly Labor Day party