Celebrity Baby
Bump Watch
Happy Wednesday hump day — also known to us Hollywood watchers as Celebrity Baby Bump Day! We have rounded up the cutest pregnant celebrities of the week, including Anna Paquin, who is expecting twins with her husband Stephen Moyer. A very pregnant Reese Witherspoon looked cute in coral, while Camila Alves showed off her baby bump in a navy blue figure-hugging dress. British personality Fearne Cotton was spotted fulfilling her cake cravings, while Madonna's ex Guy Ritchie and his pregnant girlfriend were spotted at a movie premiere.
(page 5 of 5)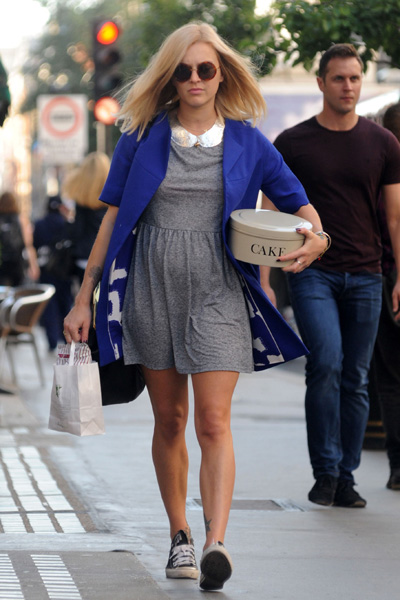 Fearne Cotton
Radio 1 DJ Fearne Cotton may not be a household name here in the U.S., but the British presenter is huge across the pond and we couldn't help but notice her cute and edgy maternity style. Cotton is expecting her first child with Jesse Wood, the son of Rolling Stones guitarist Ronnie Wood.
Cotton was spotted out in a gray dress with a white Peter Pan collar paired with a blue blazer and Converse shoes as she carried a cake tin. (Sidenote: I can totally see Kristen Stewart wearing something like this when she is pregnant in the far, far future.)
In addition to cake, Cotton has also been craving another English snack. "Think ive broken a new world record today. The most ginger biscuits eaten in one sitting," she tweeted.
Also on her mind? The fun symptoms of pregnancy. On Twitter she shared: "Morning sickness should be called ALL DAY Sickness. False advertising!"
Photos: WENN unless otherwise noted