Celebrity Mom
Cover Girls
Who were our favorite celebrity mom cover girls this month? Gwen Stefani was pretty in pink on Harper's Bazaar, talking about mommyhood and makeup. Jessica Alba was on Self magazine revealing her hot mom secrets, while Katie Couric told Good Housekeeping she still has baby lust. Jillian Michaels talked about being a new mom on Shape, while the First Lady Michelle Obama was this month's cover girl for Ladies' Home Journal. Check them all out here!
(page 4 of 5)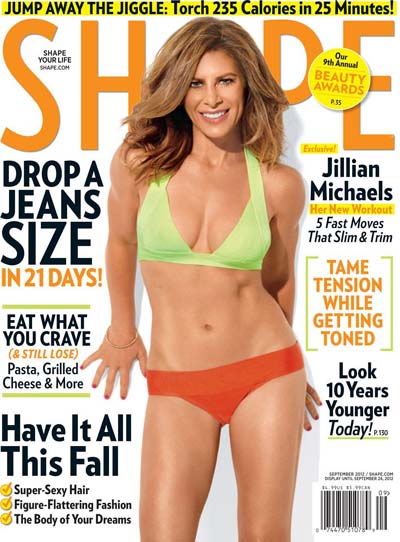 Jillian Michaels
Former The Biggest Loser trainer Jillian Michaels was the Shape magazine cover girl for September — and this new mom is looking better than ever!
"My life is rich in ways I never thought possible," says Jillian, who recently adopted a Haitian daughter named Lukensia; her partner Heidi Rhoades just gave birth to a son named Phoenix. "I feel like I can finally hone in on what truly matters to me."
She said her priorities have changed since becoming a mom. "I used to tell moms that for the sake of their well-being they had to put themselves first," she says. "But I know now that's not always possible. The reality is, I work, but not nearly as much or as hard as I used to, and if we go out, it's maybe once a week. What's changed? After weighing the pros and cons — 'like, I could go to the gym or spend two hours with my kids; or I could take that job in Miami, but then I'll lose a weekend with my family."'
Michaels says she now calls herself M.O.M., or master of multitasking. "To save time and fit in exercise, I've learned to do several things at once myself," she says.
Just because she is busy, however, does not mean you will find her letting her health go!
"So many people have said to me, 'I can't wait for you to have kids and find yourself at the drive-thru.' Look, I'm far from being a perfect parent, but I promise that will never happen. And, honestly, I don't understand why it does for so many."
Next up: Michelle Obama on Ladies' Home Journal
Photo courtesy of Shape magazine