Celebrity Mom
Cover Girls
Who were our favorite celebrity mom cover girls this month? Gwen Stefani was pretty in pink on Harper's Bazaar, talking about mommyhood and makeup. Jessica Alba was on Self magazine revealing her hot mom secrets, while Katie Couric told Good Housekeeping she still has baby lust. Jillian Michaels talked about being a new mom on Shape, while the First Lady Michelle Obama was this month's cover girl for Ladies' Home Journal. Check them all out here!
(page 3 of 5)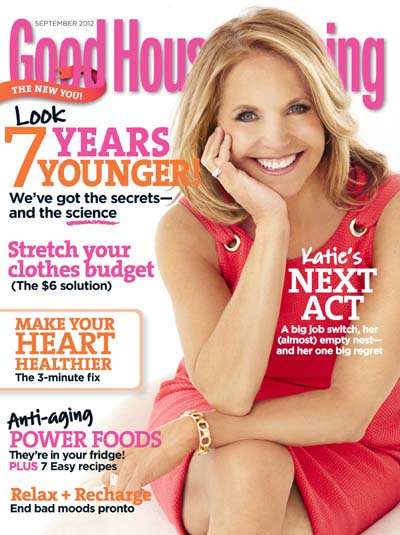 Katie Couric
Katie Couric, 55, graced the September cover of Good Housekeeping and opened up about her new daytime talk show, Katie, menopause and her biggest regret.
"I love being around my kids. I'm not a particularly solitary person. I like a big, chaotic household — noise, commotion, laughter!" said Couric, who has two daughters Ellie, 21, and Carrie, 16.
Her biggest regret? "Sometimes I think I should have had six kids. Or I wish I'd had one [more] at 37, but I was busy. My career," she revealed.
Couric told the magazine she is going through menopause and it has been a transition for her. "I think emotionally and psychologically, it's weird to feel like, 'Gosh, my childbearing years are over.' And of course they've been over for a long time, but still, they're officially over now. It's kind of a head trip, to tell you the truth," she reveals, admitting that she has "total child lust when I see little kids."
Couric is known for her bubbly personality and looks years younger than she is — so what is her secret? "I know it sounds corny, but I think the key to staying young is having joy inside you; being a caring, loving, generous person; and [having] a sense of humor."
Next up: Jillian Michaels talks being a mom to Shape
Photo courtesy of Good Housekeeping