Celebrity Mom
Cover Girls
Who were our favorite celebrity mom cover girls this month? Gwen Stefani was pretty in pink on Harper's Bazaar, talking about mommyhood and makeup. Jessica Alba was on Self magazine revealing her hot mom secrets, while Katie Couric told Good Housekeeping she still has baby lust. Jillian Michaels talked about being a new mom on Shape, while the First Lady Michelle Obama was this month's cover girl for Ladies' Home Journal. Check them all out here!
(page 2 of 5)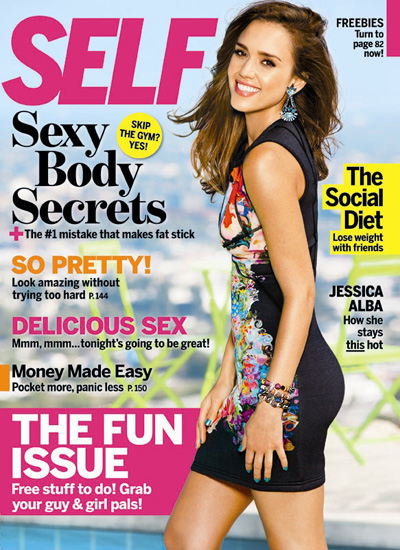 Jessica Alba
"Bubble butts, like my dad and I have, run in my family!" Jessica Alba, 31, reveals to the editors in the September issue of Self magazine. "To tone up, I do jump lunges and squat jumps. They make me want to vomit, but they're the best for getting my legs in shape."
In between her workouts and taking care of her two daughters (Honor, 4, and Haven, 1), the busy actress has also found the time to start The Honest Company, which sells eco-friendly and non-toxic baby products. She said she decided to start the company after a scary incident with her daughter.
"I found my daughter Honor sitting in her crib, eating these tiny beads from the inside of her diaper. They were all over her face. It was a moment of terror," she told the magazine.
She said that working on her company is a huge passion of hers. "It's awesome — it really does feel like this is my third baby. It's a deep passion of mine and I spend all my time at the office. I think it's a nice balance to Hollywood because it's so free and it's so creative and so much of what you do is in someone else's hands, essentially and this is something that I could actually control and I could see something from the beginning to the end and there's something really wonderful and fulfilling about that. Especially when it was so hard to get it going for so long."
Next up: Katie Couric talks about baby lust in Good Housekeeping
Photo courtesy of Self magazine