Getting kids to speak a second language
Following the success of their parenting blog, SpanglishBaby, co-authors Ana Flores and Roxana Soto molded their ideas into a new book that gives guidance on raising bilingual kids. Their memoir, Bilingual is Better: Two Latina Moms On How The Bilingual Parenting Revolution Is Changing The Face of America, explores the politics of bilingualism and the authors' opinions of being Latina moms in the U.S. Ana Flores talks to SheKnows about why we should consider raising bilingual babies.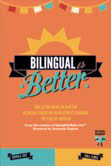 In your book Bilingual is Better, why do you write that Latino parents in America are reclaiming their language?
Ana Flores: The vast majority of Latino parents in the U.S. right now are second or third generation. A lot of immigrants felt that they had to make sure their children assimilated to the American culture so they wouldn't have to face discrimination and or lack of opportunities for not speaking English. But it came at the expense of their children learning Spanish.
The current generation sees that real advantages exist for those who speak Spanish especially considering that 37 million people ages 5 and older in the U.S. speak Spanish at home. The U.S. is the second-largest Spanish-speaking country in the world, right after Mexico! We're now armed with the knowledge of research that proves bilingualism is better for our children's brains, creativity, academic and social skills and even longevity.
Brain power
Various languages are offered in different schools. Why do you think U.S. kids should learn Spanish?
Flores: We think kids in the U.S. should learn a second language as early as possible, any language! So much research keeps coming out proving that bilingualism provides cognitive and social benefits and we're completely ignoring that at the education level. We're born with the innate ability to learn as many languages as we're exposed to in a consistent basis, yet we don't encourage the development of that brain power. It's like being born with two hands and only learning how to use one.
"Spanish is a language that's truly beneficial to any child in America."
Spanish is a language that's truly beneficial to any child in America because it's the second most spoken language here, and that's not about to change any time soon. This means that more and more opportunities will be available to those that speak both English and Spanish. Plus, it opens up the doors to travel and be fully immersed with our neighboring countries.
Is there a growing trend among non-Hispanic families who are raising bilingual children?
Flores: Educated and informed parents are realizing that it's a disservice to not nurture their baby's brain by not giving it the potential to fully develop by acquiring more languages. Many parents are also frustrated with the current education system and are gravitating toward dual and full language immersion programs because these schools and their students are turning out excellent case studies.
Break barriers
What would you say to parents who want to raise bilingual kids but didn't start when their kids were learning to speak, and they're afraid of the work involved?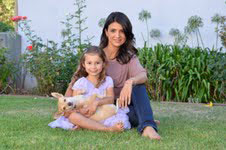 Flores: It's OK to be afraid because it certainly does require planning, dedication and perseverance. The ideal window of opportunity is between the ages 0 and 7, when the brain is ripe for bilingualism. Past that stage, it's a bit more difficult because your child's personality and interest in learning also come into play.
Try to enroll your child into a dual language immersion program if there's one in their area. If not, then find a way to immerse the child in the language in ways that are fun and meaningful to him. One of the best options — but not accessible to all — is immersion travel. Not only do they learn a new language, but they get exposed to local customs, foods and people.
Did you always intend to raise your daughter to speak English and Spanish?
Flores: Yes, always! My husband and I both speak Spanish at home and with our families in Mexico and El Salvador, so we want to make sure that our daughter has that immediate connection with them and that language isn't a barrier. It's been a real blessing to visit our families and see my girl have an instant bond with her cousins, aunts, uncles and grandparents because she can speak their language. Mission accomplished!
Hey, moms
Are you raising bilingual children? Share your thoughts and stories in Comments below.
Read more expert parenting advice
Parenting Guru: Can your kids relate cross-culturally?
Parenting Guru: Are you an empowered parent?
Parenting Guru: Got confident kids?