Celebrity Baby
Bump Watch
Happy Wednesday Hump Day – also known to us as Celebrity Baby Bump Day! We have rounded up the cutest pregnant celebrities of the week, including Megan Fox who looks adorable in a bump-hugging floral dress. Drew Barrymore was spotted out showing off her large baby bump while out with her new hubby, while pregnant actress Melissa Joan Hart made a TV appearance wearing a cute dress from A Pea in the Pod. Reese Witherspoon and Backstreet Boy A.J. McLean's wife round out our list of cute pregnant celebs.
(page 4 of 5)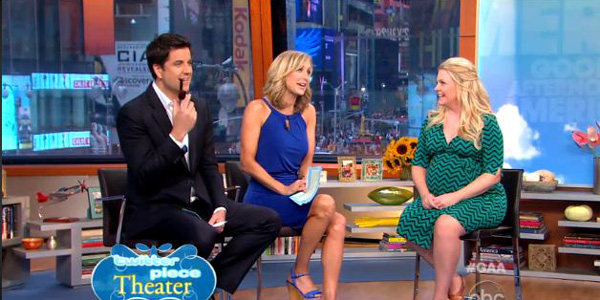 Melissa Joan Hart
Pregnant actress Melissa Joan Hart made an appearance on Good Afternoon America and looked adorable in the green chevron print wrap dress from A Pea in the Pod ($119).
The Melissa & Joey actress has two sons (Mason and Braydon) and said that her husband wants to find out the sex of their third child; however she wants it to be a surprise.
"I don't want to know. I have two boys. I like the mystery of it — it's like the last big surprise," she said.
Next up: Backstreet Boy A.J. McLean and his pregnant wife Rochelle
Photo courtesy of A Pea in the Pod