Celebrity Baby
Bump Watch
Happy Wednesday Hump Day – also known to us as Celebrity Baby Bump Day! We have rounded up the cutest pregnant celebrities of the week, including Megan Fox who looks adorable in a bump-hugging floral dress. Drew Barrymore was spotted out showing off her large baby bump while out with her new hubby, while pregnant actress Melissa Joan Hart made a TV appearance wearing a cute dress from A Pea in the Pod. Reese Witherspoon and Backstreet Boy A.J. McLean's wife round out our list of cute pregnant celebs.
(page 3 of 5)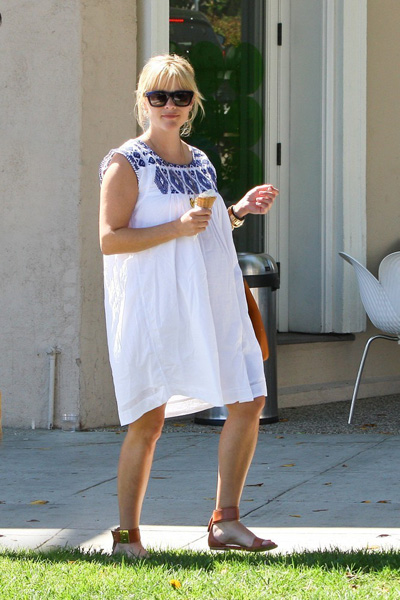 Reese Witherspoon
Pregnant Reese Witherspoon looks adorable in a white babydoll dress with a blue embroidered neckline. The actress, who is expecting her third child, is wearing her favorite GLADYS flats from The Rachel Zoe Collection ($235, Nordstrom).
Although she hasn't spoken much about her pregnancy publicly, she did recently tell reporters on the red carpet that, "Frankly I'm feeling very round tonight."
Witherspoon is filming Devil's Knot with Colin Firth and revealed her plans once that is wrapped. "After I finish that, I'm going to take a little time off — and go have a baby," she said.
Next up: Melissa Joan Hart wearing A Pea in the Pod