Celebrity Baby
Bump Watch
Happy Wednesday Hump Day – also known to us as Celebrity Baby Bump Day! We have rounded up the cutest pregnant celebrities of the week, including Megan Fox who looks adorable in a bump-hugging floral dress. Drew Barrymore was spotted out showing off her large baby bump while out with her new hubby, while pregnant actress Melissa Joan Hart made a TV appearance wearing a cute dress from A Pea in the Pod. Reese Witherspoon and Backstreet Boy A.J. McLean's wife round out our list of cute pregnant celebs.
(page 2 of 5)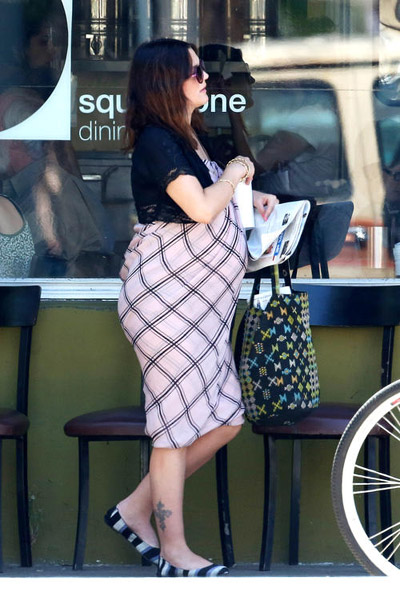 Drew Barrymore
Drew Barrymore showed off her baby bump in a pink and black patterned dress paired with a cropped black cardigan and striped flats as she and her husband Will Kopelman dined at Square One Dining. The 37-year-old actress is expecting her first child (reportedly a girl!) any week now.
How is Barrymore handling the last trimester of pregnancy? A friend of Barrymore told Closer magazine that she is feeling strain. "Drew's at the bloated and exhausted stage. She's not sleeping well and she feels like she's overheating in the L.A. summer — she needs ice cream and cold drinks," the source said.
Barrymore's husband is reportedly doing all he can to help her feel comfortable while the actress is trying to stay healthy.
"She's trying to stay calm by doing yoga, but she's feeling sluggish," the source said.
Next up: Pregnant Reese Witherspoon looks adorbs in Rachel Zoe flats