Celebrity Baby
Bump Watch
Happy Celebrity Baby Bump Day! We have rounded up the cutest pregnant celebrities of the week, including Sarah Michelle Gellar, Neve Campbell and a very pregnant (but glowing) Vanessa Lachey. We also spotted pregnant actress Anna Faris wearing a chic black maxi dress and British TV presenter Fearne Cotton's mod baby bump.
(page 3 of 5)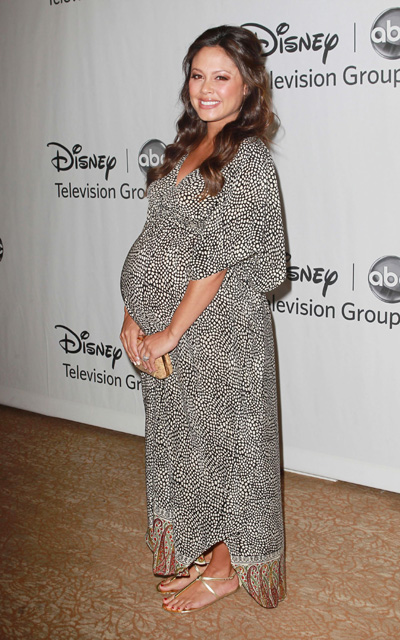 Vanessa Lachey
Vanessa Lachey showed off her growing baby bump in a printed maxi dress as she attended the Disney ABC Television Group Part to promote her show, Wipeout.
Lachey, who is expecting her first child (a boy!) any day now with husband Nick Lachey, tweeted that she respects women who work throughout their pregnancy.
"I just want to applaud ALL the pregnant moms out there who still work thru month 8 & 9! It's not easy. U are incredible, amazing, & strong!" she tweeted.
She also tweets a weekly bit of pregnancy and new mom advice, which she calls "Maternity Mondays."  
"Swaddle Blanket & Receiving Blanket are pretty much the same thing," she tweeted this past Monday. "I had no idea. Very impt for newborns. Swaddle Away!!!"
Next up: Anna Faris wears her favorite maternity color