Ease homework stress for you and your kids
When does homework become too much? According to clinical psychologist Dr. Kenneth Goldberg, roughly 10 percent to 25 percent of students in school today are homework-trapped — homework dominates their lives. "Kids are homework-trapped when interventions do more harm than good and the end result is not homework-compliance, but acting out and losing interest in school," he says. Read Dr. Goldberg's advice on relieving homework stress below.
Why do you write in your book, The Homework Trap: How to Save the Sanity of Parents, Students and Teachers, that kids today are homework-trapped?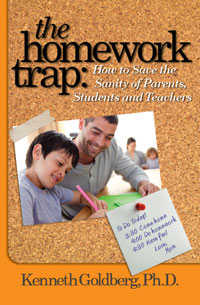 Dr. Kenneth Goldberg: Being homework-trapped is a lifespan issue that starts in elementary school and goes on to affect the child throughout his life. In elementary school, it manifests in a failure to do the work, conflict at home, deteriorating grades, and unsuccessful parent-teacher efforts to get the child to do the work.
In middle school, there is usually a window of homework compliance at the beginning of the school year. This is because the child has several different teachers and is able to do all of the work for some of the teachers. The child appears energetic, enthusiastic, and proud of his work until the other teachers bring to the parents' attention that their work is not getting done. The key is that the child was never able to do all of his work in elementary school so there is no reason to think he can do it all now.
The real sign of being trapped is that the parent feels helpless to use his or her judgment, and I don't think educators even think of measuring parents' opinions, rather they look at student test scores.
Keeping boundaries
How can parents and teachers work together to help kids?
Dr. Goldberg: Before we work together, we need to clarify the boundaries between home and school. Teachers and parents are all concerned for the welfare of children, but they have different roles. The teacher is the leader of the class. The parent is the head of the home. Homework is an anomaly that traverses the boundaries between home and school. When there are no homework problems, these hierarchical factors are not important, since most parents agree that children should do what their teachers tell them to do.
"Children need parents who feel in charge."
The problem with boundaries comes up when there are persistent homework problems. At that point, the parent is placed in the position of having to enforce behaviors, as an agent of the school, without the authority to define what needs to be done. This is a shaky position for a parent to assume and in the long run, does far more harm than good. Children need parents who feel in charge, rather than flailing around helplessly trying to enforce someone else's agenda.
Creating change
What can parents do at the beginning of the school year to take a stand and make changes in how much homework is assigned?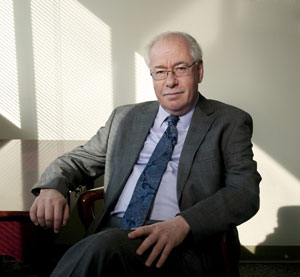 Dr. Goldberg: Time is a central issue in resolving homework problems. Most homework problems stem from the fact that children do not work at the same pace. But at home, children are expected to work into the night, no matter how long it takes, to get the work done. This is highly persecutory, and I daresay abusive, to the slower working child.
Parents first need to establish time containers in which homework will be done. Educators typically cite ten minutes per night, per grade as a homework standard. The teacher may share an estimate at back-to-school night about how much time the homework should take. You may have an idea, knowing your child, how much time works for him. However you determine the standard, it's important that the homework session be based on time, not on the actual assignments that are given. Once you establish a time-based routine, you're on the right track.
Regarding the "stand" you take with the school, I recommend going lightly on what the teacher "assigns," and focusing more on the time standard you have set. Just hold firm on your at-home decision which is your child is excused from working after a specific amount of time. In my experience, parents who do this find that their children get more done than they do berating them through the night. And once they start to do more, teachers often become more flexible accepting that some of the work won't get done.
Hey, Moms
Do you think your kids get too much homework? Share your thoughts and stories in Comments below.
Read more on kids and homework
Homework tips for every age
10 Ways to make homework time less stressful
How to make homework more fun for kids