Celebrity Baby
Bump Watch
Happy Wednesday Hump Day — also known around here as Celebrity Baby Bump Day! Pregnant Reese Witherspoon isn't letting pregnancy slow her down, as she was spotted out in a chic navy dress. Pregnant Megan Fox was spotted showing off her baby bump, as was Tori Spelling, who looked like she was feeling the pains of pregnancy. Vanessa Lachey and Tamera Mowry round out our list of cute pregnant celebrities of the week.
(page 2 of 5)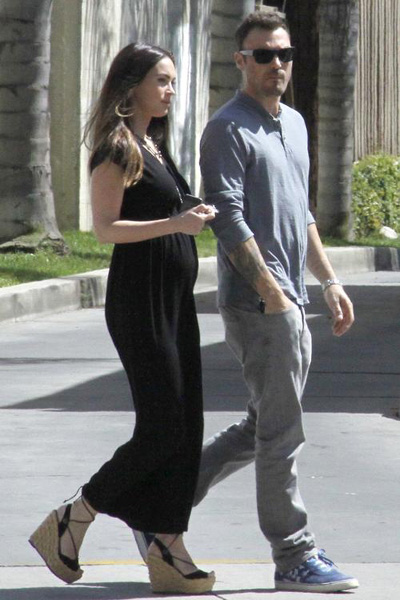 Megan Fox
Pregnant Megan Fox showed off her cute baby bump in a black maxi dress and platform wedges as she celebrates husband Brian Austin Green's 39th birthday. Fox and Green took his son, 10-year-old Kassius, to a church service before continuing his birthday celebration that day.
Fox, 26, is expecting her first child with Green and hasn't officially announced the news, however this recent photo of her bare baby bump in a bikini did the talking for her!
The Transformers actress said in the past she would "love to have kids" but that she and Green weren't planning a pregnancy, preferring to let things happen naturally.
"I mean, it's going to happen when it's going to happen, but it's not something that I've planned against or for," she said.
Next up: Tori Spelling's uncomfortable baby bump