Beatlemania Hits
Baby Names
It's a Beatles baby name bonanza! If you are a fan of the Fab Four, which includes John Lennon, Paul McCartney, George Harrison and Ringo Starr, then you will love our list of seriously cool Beatles baby names. From names inspired by their music to the rock icons themselves, you will love our list of Beatlemania baby names.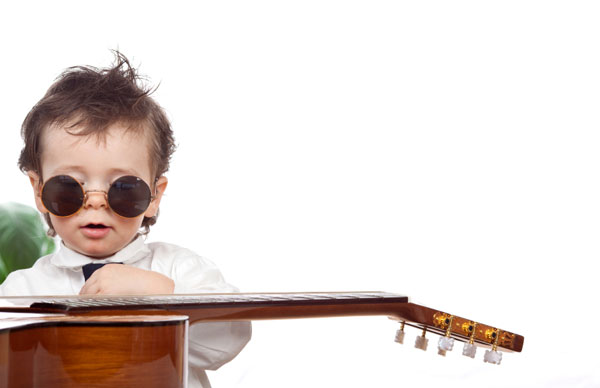 Even though Beatlemania hit its peak in the 1960s, the popularity of the The Beatles and their music continues today. If you are planning to raise a rock star baby, perhaps one of these Beatles inspired baby names are perfect for your baby boy or baby girl.
The Fab Four baby names
One of the most obvious ways to find a baby name inspired by The Beatles is to name your child after the icons themselves! John, Paul and George are all great traditional boy names that never go out of style. You can also consider James, which is Paul McCartney's first name as Paul is actually his middle name. If you are looking for a more unique name, Ringo is the way to go! Ringo's real name, however, is Richard Starkey.
For a less obvious choice, consider their last names as first names. Lennon and Harrison would make cool and unique baby boy names. You could also modified McCartney to Cartney for another unique choice. Starr or Star would be a beautiful choice for a baby girl.
You could also consider the names of The Beatles' children, which are a great mix of traditional and unique names. Paul has four children named Mary, James, designer Stella McCartney and Beatrice, his daughter with ex-wife Heather Mills. Ringo has three children named Zak, Jason and Lee. John has two children, Julian and Sean, while George has one child named Dhani.
Baby names after Beatles songs
The Beatles are reportedly the best-selling band in history (according to Wikipedia), therefore they have so many great songs with chic and unique names to consider.
For boys, check out the following names, including the inspired song from The Beatles
There are many seriously cool Beatles-inspired names for girls. Check them out here:
Tell us: Are we forgetting any cool Beatles baby names? Share in the comments if we are!

More baby name ideas
Unusal baby names that totally rock
Kick butt baby names
Baby boy names with serious swagger