Celebrity Mom
Cover Girls
Some of our favorite celebrity moms were on the covers of magazines this month. Kate Beckinsale talked about being one tough mama in Women's Health, while Anna Paquin talked pregnancy in Redbook. Olympian Kerri Walsh made us green with envy with her six pack abs in Fitness, while Ann Curry opened up to Ladies Home Journal. A gorgeous Ali Landry also graced the cover of Babystyle.
(page 2 of 5)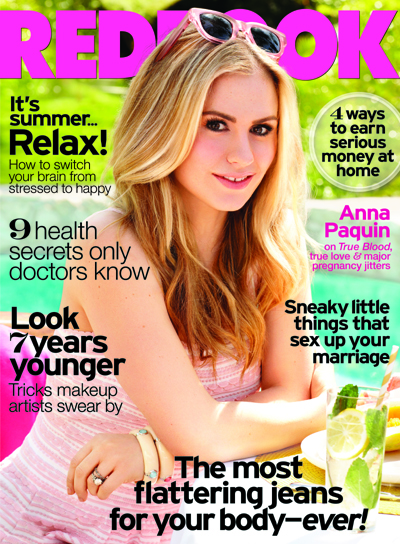 Anna Paquin
True Blood star Anna Paquin had that pregnancy glow on the August 2012 cover of Redbook magazine. The actress is expecting twins with her husband (and True Blood co-star) Stephen Moyer.
"I'm fine. I honestly don't know why it's such big news when an actress gets pregnant," Paquin, 29, told Redbook. "Obviously, we're incredibly excited, but we're still feeling a little protective of the whole thing. Something could happen, you know?"
How is she handling impending motherhood? "I have a side that's very nesty, and another that thinks, 'Let's lock up the house and go away for five months,'" she said.
How does her hubby feel about her steamy scenes with vampire Eric, Alexander Skarsgard? "We feel completely comfortable together. Steve and Alex are buddies. It's nothing like, 'Oh, hi, nice to meet you. Now let's take off our clothes and go into the fog.' Everyone is very respectful of each other's boundaries...They're all very gentlemanly about it."
Paquin also revealed how she keeps her self-confidence high in an image-obsessed business. "I'm my harshest critic…but at a certain point, you need to embrace who you are and the whole package that comes along with it. For me, it was cutting myself some slack and not trying to be something that I think is perfect or ideal."
Next up: Olympic mom Kerri Walsh on Fitness
Photo credit: Redbook