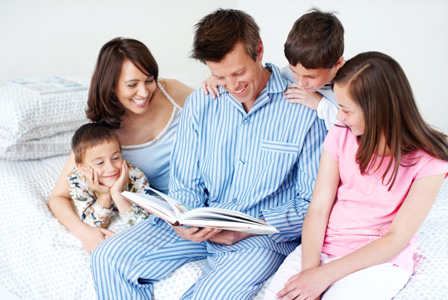 Looking for an exciting theme for your next family fun night? Open up a wacky world of fun and have a tongue-twisting good time when you plan a Dr. Seuss extravaganza for your family!
Party with Dr. Seuss
Make Cat in the Hat top hats
Get your party on with Cat in the Hat party hats. They're a cinch to make! Start with some sturdy paper plates. Cut a head-sized hole in the center of each one. Now, grab some sheets of white and red extra large (24 x 36 inch) construction paper. Glue them together to make the correct width for the top hats. Next, cut the white paper into 2-inch strips. Glue the white strips onto the red paper leaving 2-inches of red space between each strip. Fold the striped sheets into cylinders and glue to the paper plate hat base. Your Cat in the Hat party hats are complete. Party on!
Eat green eggs and ham
Would you? Could you? In a car? Eat them! Eat them! Here they are! When dinnertime strikes, there's nothing like green eggs and ham to fill up hungry bellies at a Dr. Seuss party. You can keep it simple by adding green food coloring to your favorite scrambled eggs. Or, try this easy recipe for green deviled eggs. Either way, the kids will have a blast eating this super Seussical meal.
Drink pink ink
Thirsty? How about a drink of some delicious pink yink ink? Prepare your favorite strawberry smoothie recipe and make it extra silly with a bright pink crazy straw.
Have a Dr. Seuss screening
Bust out the popcorn! It's movie time. Have a Dr. Seuss screening with your favorite Seuss films. If you haven't seen The Lorax yet, now is the time! The kids are sure to love this super fun feature film with an uplifting eco-friendly theme.
Enjoy a family read-aloud
Finish off your Dr. Seuss extravaganza with what Dr. Seuss did best — storytime! Have everyone pick their favorites and have a fun family read aloud. G'night!
More family fun
Brave the great outdoors with your family this summer
6 Summer traditions for families
Top camping destinations for families