Make Bath Time Fun For All!
Some children naturally enjoy bath time while others do not. And some children go from enjoying bath time to suddenly resisting it. Luckily, there are ways to make bath time more enjoyable for both you and your child, and it could be as easy as switching up your routine or preparing your bathroom ahead of time.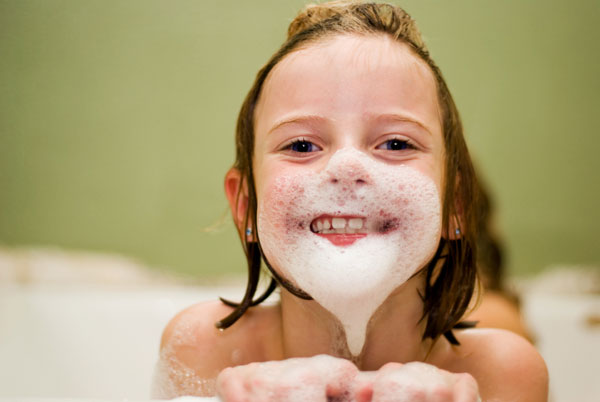 Is bath time creating problems?
If you find that your child is becoming resistant to bath time, take a closer look at your daily routine and ask yourself these questions:
Do we have a bath time routine in place?
Does the time of our bath and/or routine work for everyone?
Is our bath area prepared, safe and engaging?
Parents often incorporate bath time as part of a bed time routine — bath time, teeth brushing, story time and then bed. But an important thing to consider with any routine is, does that work for your child? While it's important to create routines, waiting until your child is too tired can cause or trigger additional and potentially unnecessary problems both with your routine and bath time. If you suspect the timing could be a cause, try altering your child's routine by moving it up to an earlier time.
Some kids simply become bored with, or grow out of, their bath toys. Check to see if your bath area is stocked with age-appropriate bath toys for your child and/or change them out every so often. Just like with play toys, children can become easily bored with bath toys over time.
How to prepare your bath time area
These bath time tips help to make bath time safer and run a little smoother for both you and your child.
Fill the bath tub with water before placing your child in the water.
Use two wash cloths for each bath — one to clean your child with, and one to dry your child's face.
Keep your body wash and shampoo nearby, but out of your child's reach.
Pick out a fun bath towel for your child. The Zoocchini Guppy the Shark towel ($32) is a perfect example as it becomes an enjoyable play experience — and gives your child something to look forward to — after bath time is over.
Have your diapering supplies and clothes ready to make post-bath an easier transition for your child.
Bath time gear to make bath time enjoyable for all
More bath time tips for parents
5 Great bath toys for preschoolers
Mom 101: Mildew-free bath toys
Baby-proofing tips for your bathroom