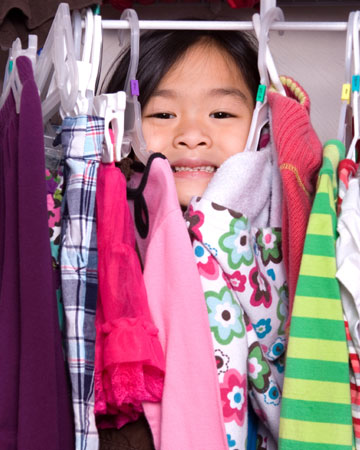 Guide to shopping for kids' school clothes
Can it really be that we're thinking back-to-school already? Yes, believe it or not. You'll probably need to revamp your kids' closets to prepare for the new school year. Check out our guide to help you stock your kids' closet for the coming school year.
Dress code clothes
Check your school's dress code before heading out to do your back-to-school shopping. Whether it's a uniform or a structured code, your school's clothing requirements need to be met or your child may be sent home. Make sure you know the rules before shopping. Many kids' clothing stores and discount stores stock their shelves for back-to-school with clothing that meets local school's requirements.
Basics
Check your kids' socks and underwear drawer and get rid of any raggedy, hole-y or otherwise worn out items. Your kids should have at least ten to fourteen pairs of socks (white, black and other colors) and at least ten to fourteen pairs of underwear. Girls may also want a few pairs of tights or thin leggings to layer as the weather grows cold.
Play clothes
To save yourself from doing laundry mid-week, your child should have a fresh outfit to wear every day of the school week, plus one or two extras just in case. Check out this breakdown:
Shirts: 8-10
Pants: 5 (think variety like jeans, khakis, leggings and one dressy pair)
Sweaters: 5 (once again, variety is key — mix it up with pull-overs, cardigans and hoodies)
Long-sleeve shirts: 5 (add a dressy blouse for girls or button down for the guys into this mix)
Remember that part of the school day includes jumping, running and climbing on playground equipment. Make sure the clothing you purchase for your kids is appropriate for all that active play.
For example, if your daughter loves to wear dresses, have her wear bloomers or spandex shorts under her skirts so she doesn't have to worry about giving a sneak peek on the playground. If your school allows, purchase comfortable and breathable athletic-style shorts for the boys.
Keep in mind that school clothes need to be comfortable but also withstand a little wear and tear. Aside from active play, the clothes are likely to come in contact with a messy art project from time to time.
Comfortable shoes
Comfortable shoes are also important for getting your child through a long day of class, play time, PE and walking/biking to and from school. Make sure your child has a good pair of sneakers, a breathable and comfortable pair of sandals as well as a nice pair of dress shoes for school programs.
More on back-to-school wear
10 Back-to-school wardrobe essentials
10 Fun backpacks
Accessory trends for middle schoolers